So where will you head off to in 2012? To help plan your international forays this year, Rebecca Thomson considers some of the most exciting emerging international retail markets in the most unlikely of places.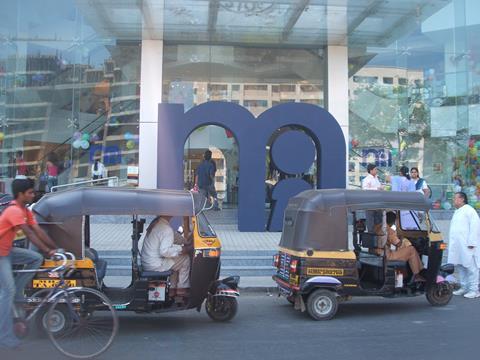 Kazakhstan, Algeria and Peru might sound more like the latest destinations in an adventure holiday brochure than the next generation of retail hot spots, but they hold more potential than you might think. With young populations and rising incomes – and with developed markets stagnating – it's countries such as these that could drive retail growth in the coming years.
And as 2012 dawns with promises of yet more UK gloom, retailers need to keep an open mind about where growth could come from. With so many emerging markets starting to mature, it's not just the BRIC countries (Brazil, Russia, India and China) that are worth exploring – there are dozens of other markets that hold big potential for retailers that want to expand their horizons.
Added to this is a sense that international expansion makes increasing strategic sense. As Kingfisher international chief executive Peter Høgsted says: "Retailing is about growth, and if you can diversify your portfolio into different markets you don't have to depend on a single country for growth."
Off-radar markets
Deloitte's 2011 Hidden Heroes report, which it produced with Planet Retail, identifies a whole range of markets that may not already be on retailers' radars. These countries don't just have high levels of economic growth – they have burgeoning middle classes, and with shoppers' habits in these markets starting to evolve, 2012 may well be the right year to start researching them. Walmart has already taken its first steps into Africa, acquiring South African retailer Massmart in 2011. Now that the world's biggest retailer has taken the plunge, others are expected to follow as these new frontiers of retail continue to evolve.
Ira Kalish, author of the Hidden Heroes report and director of global economics at Deloitte Research, says many retailers will simply be interested to know which markets are starting to shine. But for some, it's not an opportunity that should be put off forever. "In many instances, these are markets where there are opportunities right now," he says. "Home markets are challenging and it's a good time for those with cash to generate a first mover advantage by going into these places while assets are still relatively cheap."
Kalish says many of these markets have lots of low-hanging fruit because, while there's growing demand for a modern retail offer, the retail sector is still fairly fragmented with market share up for grabs. At the very least, these countries should be on the list of markets that are worth examining, especially for retailers that already have some kind of international presence.
Caution advised
But as ever with international expansion, the usual cautionary advice applies. Christine Cross, retail adviser at PricewaterhouseCoopers, says: "Make sure your domestic business is absolutely rock solid first, because it will need to be your cash cow before your international business gets going." She adds that it's wise not to take on too much risk, but that these smaller markets can be perfect for retailers looking for the same kind of growth that the BRIC countries achieve in a more manageable size.
"Russia, for instance, is politically a little bit uncertain," she says. "Ukraine, in comparison, is more European and smaller." But she adds that African countries are also worth keeping an eye on, with growth in countries such as Nigeria now starting to accelerate after decades of economic and political strife.
Kalish advises investing in a foreign country with a partner, or entering the country by acquiring local businesses. "It's very difficult to go it alone entirely," he says. Høgsted agrees, saying Kingfisher's partnership with Turkish conglomerate Koç Group has helped the company's Turkish chain, Koçtas, go from strength to strength. He adds it's crucial not to spread yourself too thinly and that the best strategy is to choose markets that suit the business and focus wholeheartedly on increasing market share there.
Emerging at the right time
Beyond that, it's important to consider when an emerging consumer market will be ready for your brand. In Kingfisher's case, a market has to be fairly well developed before shoppers start thinking about home improvement and DIY. It's likely to move into a new market after the grocers, for instance, who cater for more basic needs such as food and clothing.
This could happen more quickly than might be expected – the pace of development in new markets can be surprising.
The less well-known markets identified by the report are set to start gaining in reputation as bona fide retail destinations in the next couple of years, Kalish says, as the better known markets become more saturated.
As home markets continue to feel the pinch, retailers would do well to keep one eye on any emerging market whose GDP growth and population warrants attention.
Countries such as Nigeria and Vietnam could provide retailers with the best hope of growth as the decade matures. It is those retailers that are aware of these countries and how they might fit in with their business model who will gain the advantage in years to come.
Algeria
Population 36.7 million
GDP $206.1bn
GDP per capita $5,620
GDP (real growth) 3.6%
Retail sales, net/capita $1,023
Why it's worth investigating A young population, rising incomes and high oil prices bode well for consumer spending in this oil and gas rich country, and retail sales increased strongly in 2010. But government regulation has stifled foreign investment and future success will depend on the government's ability to diversify the economy away from fuel
Serbia
Population 7.4 million
GDP $46.8bn
GDP per capita $6,314
GDP (real growth) 3%
Retail sales, net/capita $3,235
Why it's worth investigating Countries that successfully emerge from protracted periods of social turmoil often become attractive places for the development of a consumer market. Serbia's growth, while partly determined by what happens in the rest of Europe, is expected to continue
Pakistan
Population 169.4 million
GDP $205.3bn
GDP per capita $1,212
GDP (real growth) 2.8%
Retail sales, net/capita $610
Why it's worth investigating Modernisation of the retail sector will be slow and confined to urban areas, but Pakistan is an attractive market for international grocers. The population is large and youthful, and incomes are gradually rising. Growth is expected to be between 3% and 4% in the coming years
Kazakhstan
Population 15.6 million
GDP $170.8bn
GDP per capita $10,952
GDP (real growth) 5.9%
Retail sales, net/capita $2,564
Why it's worth investigating Currently a youthful, middle-income country, GDP growth in Kazakhstan is expected to exceed 6% per year in the coming years. There is an increasing preference for formal retail outlets – between 2004 and 2008 the size of the country's retail sector effectively doubled and retail sales are expected to double by 2016
Vietnam
Population 89.3 million
GDP $117.2bn
GDP per capita $1,312
GDP (real growth) 6.3%
Retail sales, net/capita $577
Why it's worth investigating Vietnam does have some economic problems – notably inflation, which reached 22% in July 2011. But it has averaged over 8% economic growth over the past decade and population is expected to be 100 million by the mid-2020s. Providing the government continues to liberalise the market, there's big potential
Kenya
Population 40.9 million
GDP $34.8bn
GDP per capita $851
GDP (real growth) 5.72%
Retail sales, net/capita $437
Why it's worth investigating Kenya is one of the first countries for decades leading significant growth in Sub-Saharan Africa, and the result is a rapid increase in consumer spending power. It is relatively open to foreign investment, and appears to offer promise
South Africa
Population 50.5 million
GDP $405.3bn
GDP per capita $8,023
GDP (real growth) 3.52%
Retail sales, net/capita $2,914
Why it's worth investigating Walmart has entered this market, which has become a regional powerhouse. Problems such as high crime and income inequality remain, but consumer spending is high compared with many other emerging economies
Nigeria
Population 160.3 million
GDP $266.4bn
GDP per capita $1,661
GDP (real growth) 6.87%
Retail sales, net/capita $675
Why it's worth investigating The benefits are starting to outweigh the challenges. Strong growth, good demographics and rising interest in Africa are outweighing the political instability and poor infrastructure. The retail sector is expected to become more modern as shoppers migrate to formal retail venues
Peru
Population 30 million
GDP $174.9bn
GDP per capita $5,829
GDP (real growth) 7.5%
Retail sales, net/capita $2,206
Why it's worth investigating More than a decade of strong GDP growth has reduced poverty and led to an expansion of an urban middle class, supporting growth in private consumption. The global recession stalled growth slightly, but it was still 8.8% in 2010
Morocco
Population 32.2 million
GDP $102.5bn
GDP per capita $3,184
GDP (real growth) 3.9%
Retail sales, net/capita $1,278
Why it's worth investigating Morocco is a relatively stable and high-growth economy with close ties to Western Europe. GDP growth is expected to be 6% per year in the coming years and Morocco's retail sector is set to undergo a major shift as large-scale purpose-built retail areas become more prevalent
Market entry - How Kingfisher decides
Kingfisher is one of the UK's most successful international retailers, according to Retail Week Knowledge Bank, with nearly 60% of its £10.5bn sales in 2010/11 generated abroad. Its biggest market is France and it also operates in Turkey, Russia and Poland, among others.
Kingfisher international chief executive Peter Høgsted says the retailer has three separate approaches for its international expansion strategy – short, medium and long term – and that choosing the right markets for investment is a process of constant appraisal.
"In the short term – the next couple of years – we will be focusing on going deeper in our existing markets of Russia and Turkey and building our position in them instead of spreading ourselves too thinly."
In the medium term, however, Kingfisher is watching markets including India, Indonesia, Brazil and Egypt.
Høgsted says it is those markets with large populations and many households, as well as reasonable GDP growth, that first attract the company's attention.
Being a DIY retailer, it then needs markets where shoppers are evolving from just buying the basics.
Shoppers in emerging markets often go from buying food and clothes to expanding into other goods.
"You have a filtering process where you start looking at the population of a country, the demographics, retail consumption patterns, growth in disposable incomes and the housing market. We also look at political risk and the stability of an economy and its currency. At the end of this, you normally end up with a very short list," he said.