Tesco has reiterated its commitment to expansion in India despite the false dawn of proposed changes to the rules on multi-brand Foreign Direct Investment (FDI).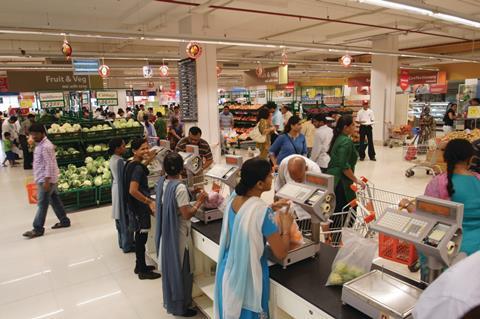 The grocery giant is expanding its retail franchise operations in the south and west of the country, opening new stores with partner Trent, part of conglomerate Tata Group.
Two new stores, branded Star Bazaar and supplied with 80% of their product by Tesco, are to open in the next three months bringing the total number to 15 shops with plans to build clusters of locations to gain supply chain efficiencies.
Despite tough UK conditions and a decision to temporarily shut 12 Fresh & Easy stores in the US this week, the grocer is confident overseas expansion remains the right strategy.
The Indian government, up for re-election in May, has relented to political pressure and put plans on ice to allow multi-brand foreign retailers to sell directly to consumers.
On Tuesday, it relaxed rules on single-brand FDI to allow retailers to increase ownership from 51% to 100%, paving the way for the likes of Marks & Spencer and Louis Vuitton to expand.
Tesco director of corporate and legal affairs Lucy Neville-Rolfe said its short-term plans remain on track regardless of the issue of FDI.
She said: "We are looking at a long-term plan in India. We want to build a long-term foundation and the agreement with Tata has opened many doors.
"India will have the largest number of consumers in the world by 2027 and we have to find a way in the regulatory framework."
In 2008, Tesco and Trent announced their intention to open 50 stores in India. The UK retailer had planned to open cash-and-carries, but decided against that earlier this year.
David Morris, chief operating officer of Tesco's operations in India and seconded to Star Bazaar, said: "We may consider opening cash-and-carries at some point, but we want to focus on improving efficiency and service at Star Bazaar.
"We are making great strides in increasing scale and it's about working effectively in relatively tight locations."
Tesco has set its sights on an increase in its Indian sourcing division's revenue, targeting a turnover of £370m in the next financial year.
Innovation advances in india
Tesco is utilising its 6,000-strong workforce at its Hindustan Service Centre in Bangalore. Innovations include:
Developing self scanners, which are being piloted in 12 UK stores
Using 'gamification' technology, which allows shoppers to arrange their shopping list, ascending or descending in price, by moving their hand up or down using the same principles as the Wii
Creating a voice-recognition app for Android phones, which allows consumers to say the product they want to add to their online cart
Developing thermal imaging technology to monitor queues – a technology since replicated at Heathrow Airport
Considering new formats for UK stores including a greengrocer Tesco Farm Fresh, an off-licence Tesco Wine Stores, a sandwich chain Tesco Grab & Go and a standalone chain Tesco Baby & Toddler