It emerged last week that US-based retailer Target is to stop selling Amazon's Kindle e-readers and tablet PCs in recognition of the growing competition from the ecommerce retailer.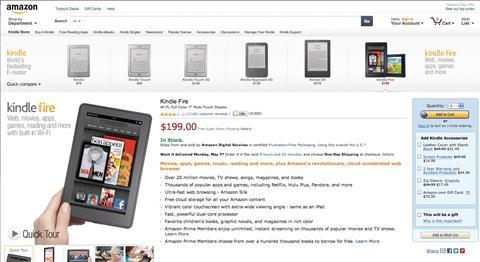 Target has been stocking Kindle devices for the past two years but now says it "plans to phase out all Amazon and Kindle-branded products by the end of this month". Target has grown tired of being a showroom for Amazon, which continues to grab market share.
The shift reflects the growing threat pure-play online retailers pose to bricks-and-mortar operators, particularly those trading predominantly in discretionary non-food categories.
As we have seen from the poor performances of the large hypermarket chains of Carrefour in France and Tesco in the UK this threat is very real. In the UK, Tesco in particular aims to address the growth of internet shopping by developing an online marketplace to rival Amazon – the first products from third-party retailers are already on offer.
Carrefour also intends to expand its online businesses following an agreement with Dixons Retail-owned Pixmania.
The decision also reflects the backlash Amazon is facing from retailers over its efforts to increase its share of sales of a broad range of products. Although e-readers and tablets are sold at a fixed price, the vast majority of other products Amazon sells are not, enabling the etailer to undercut its bricks-and-mortar rivals.
Just last year, it launched a campaign promoting its Price Check mobile application, which allows users to scan products in-store, showcasing the online price at Amazon which is typically lower. Pure-play online non-food retailers have significant cost benefits compared with bricks-and-mortar operators, in that they are able to operate out of several warehouses or distribution hubs in low rent locations.
We have already seen some signs of a backlash, with the Occupy Amazon movement late last year organised by retailers to promote the benefits of shopping in a bricks-and-mortar store. The key problem for bricks-and-mortar operators is that, by launching mobile apps, Amazon is able to offer the in-store experience at a rival's store but link to the low prices online. This means the bricks-and-mortar retailer does much of the work but Amazon gets the sale.
The threat from Amazon is likely to increase as it continues with its expansion programme.
For more information contact us on:
Tel: +44 (0)20 7728 5600
Email: info@planetretail.net