Chinese shopping bonanza Singles' Day sparked a three-fold online sales increase at Marks & Spencer on Tuesday.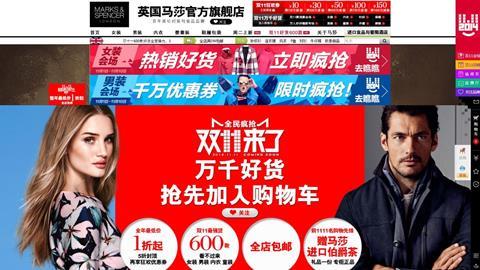 Marks & Spencer took part in the 24-hour Sales event by selling through Alibaba-owned Tmall in China.
Retailers are increasingly taking advantage of one-off promotional events such as Black Friday as they seek to cash in on pre-Christmas shopping bonanzas.
M&S said its Singles' Day sales surge was driven primarily through deepening stock levels and widening its customer base. The retailer sold over 5,000 Cashmilion jumpers on the day. Other bestselling products included long sleeve t-shirts and jeggings.
Chinese etailer Alibaba sold £1.2bn goods in the first hour of Singles' Day, and the ecommerce giant hopes to take the event global. Singles' Day was created by Chinese students as an alternative to Valentine's Day and was adopted by Alibaba in 2009 as a means of boosting sales.
House of Fraser director of brand Tony Holdway said the retailer is considering entering the Singles' Day fray next year.
The department store group, bought by Chinese giant Sanpower ealrier this year, is yet to launch in China but is expected to have an online presence in the country at some point to support plans for physical shops.
Holdway told Retail Week: "The numbers speak for themselves, I looked at Alibaba's success and thought 'wow'. It is certainly something everybody should look at; when you see numbers like that you have to listen."
Holdway said House of Fraser will also for the first time this year run Black Friday promotions online and across its stores in the UK.
Other retailers including Dixons Carphone are gearing up for a bumper Black Friday, a US tradition designed to spark the festive shopping period that first kicked off in earnest in the UK last year.
Dixons Carphone group chief executive Sebastian James said: "We think it's going to be a real whopper, becoming our second largest sales weekend of the year, after Boxing Day."
During last year's Black Friday weekend Dixons recorded over one million clicks per day on its websites, while 1.7 million electrical items were prepared for home delivery from its Newark distribution centre.
Amazon expects to attract record numbers of shoppers this Black Friday while Sainsbury's is preparing to take part in the Sales event for the first time. Asda, John Lewis and Shop Direct will run promotions for the second year running.