Retailers eyeing overseas growth often look at the BRIC markets, but VISTA countries – Vietnam, Indonesia, South Africa, Thailand and Argentina – are worth considering.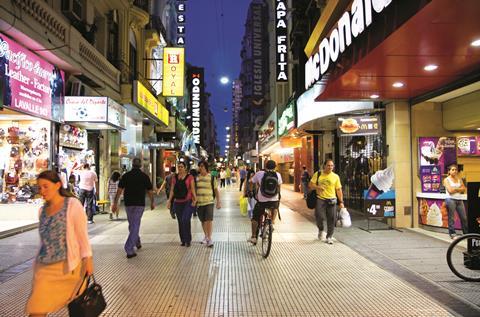 The combined population of the BRIC countries perhaps helps explain why they get so much attention from growth-seeking retailers. At about 3 billion and with economic growth at times reaching double figures over the last 10 years, the potential in Brazil, China, India and Russia could keep retailers busy for years.
But with China's rising costs, India's problematic regulatory system, Russia's corruption and Brazil's saturated retail market they are not devoid of problems, and retailers are increasingly looking elsewhere for opportunities.
They're also not always the easiest option logistically – the sheer size of Russia alone makes it a daunting prospect – which helps explain why markets such as the so-called VISTA countries are creating a bit of a buzz. Their relatively small size coupled with impressive growth rates could make them an interesting option for retailers looking to expand and as the UK economy continues to stagnate, they're worth attention.
Deloitte Research director of consumer business Ira Kalish says: "The second-tier markets are getting more attention because the big countries are somewhat saturated and there are some questions about their future economic prospects. They don't seem quite as attractive as they did."
Tesco, which has more than 1,000 stores in Thailand under the Tesco Lotus brand, says many Asian economies are doing well. Tesco Lotus chief executive John Christie says: "While recent economic uncertainty has impacted confidence everywhere, our businesses in Asia are performing particularly well, with trading profit in Asia up 21.8% over last year."
Tesco's international profits this year topped £1bn for the first time, making it clear why overseas expansion is a strategy worth emulating. According to the retailer's financial reports, Thailand accounted for £3.2bn in revenue in 2011/12, a growth of 13.7%.
But while many of these slightly smaller markets have great prospects – Kalish says Indonesia, for instance, is almost on par with the BRIC countries in terms of market opportunity – they're not all necessarily worth investing in. Argentina, for instance, has long-running economic problems.
As the overview shows, although the potential of VISTA countries is worth investigating in detail, smaller markets don't automatically offer easy opportunities.
Vietnam
Population 86.9 million
GDP (2010) $106.43bn (£67.5bn)
GDP annual growth (2010) 7%
GDP per capita (2010) $1,224 (£789)
Population aged 15 to 64 (% of total) 70%
Vietnam has attracted investment from European retailers including Carrefour, Mango and Metro, says Kurt Salmon partner Sven Kromer. But it holds further potential, says Deloitte's Ira Kalish. "A lot of people are saying Vietnam is where China was 20 years ago. It's still a relatively poor country but it's starting to open up."
Infrastructure is still underdeveloped but the situation is improving. Plus, Kalish adds, the retail market is in its relative infancy meaning there is potential for UK entrants. "There aren't many modern stores," he says.
The only concern is whether the government will keep working to make the market more open. Kalish says it has used price controls to combat inflation, instead of market-oriented policy tools. Kromer says depreciation of the currency is also possible, which would make imports more expensive.
Source: World Bank
Thailand
Population (2010) 69 million
GDP (2010) $318bn (£205bn)
GDP annual growth (2010) 8%
GDP per capita (2010) $4,608 (£2,931)
Population aged 15 to 64 (% of total) 71%
Tesco entered Thailand in 1994 as Tesco Lotus, and now has more than 1,000 stores there. Tesco Lotus boss John Christie says the Thai stores are among the grocer's strongest performers, and there are plans to launch a web presence in the country within the next year.
Christie concedes that there can be challenges in overcoming the limited infrastructure found in developing countries, and the only way to do so is to work in partnership with suppliers.
He adds that providing safe, good-quality food is often taken for granted in developed countries but can be a challenge in economies with under-developed supply chains.
Overall, Thailand is a fairly attractive market, says Deloitte's Ira Kalish, but not one with low-hanging fruit. "It's not a huge growth opportunity because quite a lot of sophisticated retailing already takes place there," he says.
Source: World Bank
Argentina
Population (2010) 40.4 million
GDP (2010) $368.7bn (£238bn)
GDP annual growth (2010) 9% (2009 figure: 1%)
GDP per capita (2010) $9,124 (£5,803)
Population aged 15 to 64 (% of total) 65%
Despite the high growth figures, Kurt Salmon's Sven Kromer describes Argentina as the most problematic of the VISTA countries. Deloitte's Ira Kalish agrees, saying: "It's a country with a deeply troubled economy."
Running a foreign business in Argentina has been difficult since the government imposed capital controls in 2011 to prevent a run on the currency. This makes importing expensive and, to add to its troubles, Argentina's economic outlook doesn't look good. The country tends to swing between very low and very high economic growth, and Kalish says little is done to combat instability.
Walmart and Carrefour have entered the market, but Kalish says it's unlikely others will follow. "Colombia and Peru are more attractive," he says. "They've had very strong growth lately and an increase in foreign investment."
Source: World Bank
South Africa
Population (2010) 49.9 million
GDP (2010) $363.9bn (£234.5bn)
GDP annual growth (2010) 3%
GDP per capita (2010) $7,280 (£4,630)
Population aged 15 to 64 (% of total) 65%
South Africa might look like a good growth opportunity, but it's not a straightforward one. It's a fairly developed economy with a modernised retail sector. Deloitte's Ira Kalish says consumers are well served by sophisticated indigenous stores.
But Walmart obviously sees value in the market – it bought South African retailer Massmart in 2011. Kalish says this is the right way to enter the market. "Part of the attraction of the acquisition was to use it as a base for investment in other parts of Africa," he says, citing Nigeria as one of the region's best prospects.
So while South Africa's own market growth may not be hugely exciting, and while its retail market is fairly well-served by local players, once Africa's growth as a continent picks up it will be a clever place to be.
Those who move fast to get a foothold in Africa could see impressive future returns.
Source: World Bank
Indonesia
Population (2010) 239 million
GDP (2010) $706.5bn (£455.4bn)
GDP annual growth (2010) 6%
GDP per capita (2010) $2,946 (£1,899)
Population aged 15 to 64 (% of total) 67%
With the fourth biggest population in the world, Indonesia is a country worth investigating. The political crisis of the late 1990s caused GDP growth to fall to as low as 0.3% in 1999, but with democracy now in place such problems appear to be resolutely in the past.
Corruption, while it still occurs, is falling, and over the past 10 years the country has focused on its growth potential. A young population and China's rising wages have helped, as Indonesia picks up business from those looking for low-cost manufacturing.
"I've often thought Indonesia should be one of the BRICs," says Deloitte's Ira Kalish. "It's an attractive market." Even in a weak global economy Indonesia is delivering steady annual GDP growth – 2010's figure coming in at 6% – and as its wealth continues to rise it will become increasingly attractive. The main challenge to deal with, Kalish says, is a fairly onerous regulatory system.
Source: World Bank