From acquiring innovative etail upstarts to prioritising new growth markets, Judith McKenna reveals how she is transforming Walmart's international business.
For one of the world's most powerful businesswomen, Judith McKenna is remarkably down to earth.
The Middlesbrough-born boss of Walmart's far-reaching international division smiles almost bashfully as she takes a seat, flanked by two PR advisers, in a suite at the InterContinental O2 hotel in Greenwich.
The backdrop of the London borough's ongoing regeneration – new apartment blocks continue to sprout up alongside coffee shops, bars, restaurants and a Thameside golf range – provides a view befitting of the journey McKenna is in the midst of with Walmart.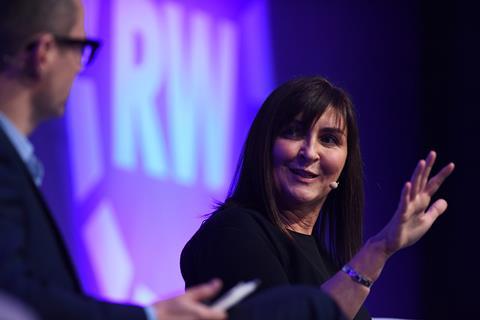 The world's biggest retailer is transforming itself equally profoundly as it faces into the dynamics that are radically reshaping retail and fights back against the growing threat of Amazon.
In the past three years alone, Walmart has made some bold moves and big acquisitions to adapt to changing consumer habits and the blurring of lines between previously distinct shopping channels.
In the past three years it has acquired US ecommerce platform Jet.com for $3.3bn (£2.5bn), outdoor activewear etailer Moosejaw, men's fashion website Bonobos and last-mile delivery experts Parcel.
But Walmart saved its biggest splash for last May when it beat Amazon to a controlling stake in Indian ecommerce behemoth Flipkart for a princely $16bn (£12.25bn). Winning that bidding war represented a proverbial flag in the ground for Walmart, which six months earlier had removed the word 'stores' from its company name – a symbolic indicator of its multichannel evolution.
For McKenna, that change has brought about some difficult decisions impacting the 26 markets, 6,000 stores and 800,000 workers that the former Asda executive now oversees in her role as Walmart's international chief executive.
Walmart is shifting its focus and investment from stores to online, from mature markets to growth regions, as it battles Amazon for supremacy in global shopping.

Walmart, a business that McKenna admits has historically wanted "100% control", is relinquishing full control of operations abroad and partnering with businesses with greater local nous in a bid to turbocharge overseas sales.
Last June, following a "thoughtful and deliberate review" of the business, Walmart sold an 80% stake in its underperforming Brazilian operations to Advent International – a private equity house that has invested in 30 Brazilian companies in the past 20 years – which it said would "strengthen the business and position it for long-term success".
But it is another international deal that has grabbed attention in the UK. Last April, Walmart struck a £13bn agreement to merge Asda with its big-four rival Sainsbury's – a deal that hangs in the balance after the scathing provisional findings of the Competition and Markets Authority's investigation.
"The fastest we've done a delivery is nine minutes, from start to finish. But the only reason you can do that is because you've got bricks and mortar"

Judith McKenna, Walmart International
Having met questions regarding the merger during her keynote appearance at Retail Week Live earlier that day with a relatively straight bat, McKenna affords a smile as more get fired her way.
"You'd have let me down massively if you hadn't asked," she quips, with the northern twang she has retained despite swapping Asda House for Arkansas in 2013.
In the relative sanctuary of the suite, one floor above the spotlight of the main stage, McKenna removes the shackles slightly, taking a swipe at the CMA for its hard-line approach, accusing it of failing to understand how online and the discounters have affected UK grocery.
"I am not sure that everybody understood the changing shape and nature of UK retailing," McKenna says.
She believes the CMA failed to recognise the true extent of the impact Aldi and Lidl have had on the market. "There is a recognition that the discounters are a level of competition – the issue is the amount of competition that they create," McKenna explains. "Every one of our supermarket peers looks at their pricing versus an Aldi or a Lidl. We are all aware of that. That is because they are strong competitors in the market to us."
She also highlights that UK food retail is changing rapidly. Marks & Spencer was viewed as solely a bricks-and-mortar rival to Asda and Sainsbury's by the CMA, but after the watchdog's provisional findings were published, the high street bellwether revealed details of a "transformational" joint venture with Ocado.
McKenna describes it as "interesting" that the deal was announced after the CMA's provisional findings, hinting that the timing could have been strategic.
Lessons from China and India
The tinge of frustration in McKenna's voice is understandable. Walmart stands to net almost £3bn if the deal to offload 58% of Asda gets the green light. That's a substantial sum to reinvest into tech and digital initiatives, or its target growth markets of India and China – countries where McKenna is excited by future opportunities.
In China, where Walmart has partnerships with etail titan JD.com and online grocery and fulfilment experts JD Daojia, innovation has transformed retail at an unrelenting pace, as stores and online combine to create seamless and speedy shopping experiences.
"China is clearly a fascinating market," McKenna says, eyes lighting up. "Six or seven years ago, that was still a cash-on-demand market. Today, it's got the most advanced payment systems, social media connectivity and customer apps in the world. It's incredible. You go there and you see it and it's a seismic shift in how people are shopping.
"Ten years ago, it would have been pretty much unheard of for us to do partnerships. We wanted 100% control"

Judith McKenna, Walmart International
"We've got partnerships there because we recognised that we couldn't lead in some areas. There is a propensity now for the Chinese customer to order online and have products delivered. The fastest we've done a delivery is nine minutes, from start to finish.
"But the only reason you can do that is because you've got bricks and mortar. You can pick from a store in order to fulfil those orders. That's a sweet spot that Walmart, around the world, no matter what banner it is above the door, can help bring to the party."
There are similar innovations and learnings to be garnered 3,500 km away in Bengaluru, India, the home of Flipkart. As well as its core ecommerce business, selling fashion, electricals and homewares, Flipkart has developed a payments app of its own: PhonePe.
It allows users to keep track of all their payments in one place, be it shopping, utility bills, insurance premiums or bank transfers.
Such shifts towards the "seamless" experiences demanded by the customer have allowed Flipkart to grow into the etail powerhouse that sparked a tug-of-war between Walmart and its great rival Amazon.
"One of Flipkart's big focuses is on personalisation – they really think about the Indian customer and what's right for the Indian customer," McKenna explains.
"The attention to detail, down to how much bandwidth their app takes up, in a nation that doesn't have unlimited data, are little things that we are learning about all the time.
"But we are also finding tangible partnerships. Myntra is their clothing platform and we've just launched some Myntra product on Walmart Canada. So there are some practical things we are taking from them, too."
From good retailer to good partner
Such lessons are as varied as they are valuable. But McKenna and Walmart are only learning them because of a strategy-defining pivot in the way it operates – a pivot that other retailers can take lessons of their own from.
In simple terms, Walmart has adopted a 'stronger together' approach to doing business in order to fight back against the increasingly aggressive onslaught of Amazon. It doesn't just want to be a good retailer any more, but a good partner.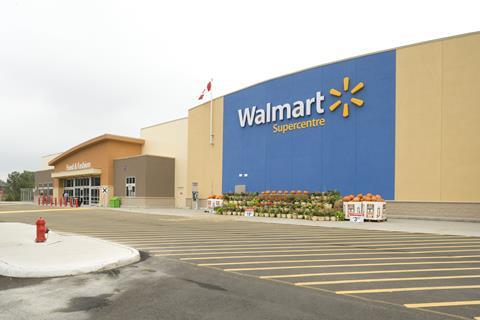 The list of acquisitions and strategic tie-ups it has struck over the past five years is testament to that mentality – and it's a roll of honour that will get longer still when it completes the $225m acquisition of Latin American online marketplace CornerShop this year, subject to competition clearance.
"Ten years ago, it would have been pretty much unheard of for us to do partnerships. We were very much of the view that we want 100% control, and we're all very comfortable, thank you very much," McKenna admits.
"That has been one of the biggest pivot points that I've seen in my time here – our comfort levels to work with partners, welcome new partners and be a good partner. One of the things Walmart International has set itself up to do is think about how we become one of the best partners in the world for businesses.
"Our history and our heritage is bricks and mortar. We don't have a heritage online. We have realised that in some places we need to build, in some places we need to buy and in some places we need to partner, the better and faster we can go. If there's one thing in retail today, it's that speed is critical."
McKenna is also convinced that Walmart is a valuable partner to work with."There's a reason why tech providers want to work with us – we provide the other piece of the jigsaw. If you look at China, you need our stores to stock and pick the product in order to deliver it in that nine-minute timeframe," she says.
Multichannel mission
That rapid delivery time is a manifestation of the great strides Walmart has made on its multichannel mission. Despite fierce competition both online and off, its revenues topped $500bn for the first time in its history in the fiscal year to January 31, 2018 and ecommerce sales accounted for $11.5bn.
But McKenna has enough experience to know Walmart cannot rest on its laurels.
A law graduate from the University of Hull, McKenna qualified as a chartered accountant at KPMG and spent time with Carlsberg Tetley and Allied Domecq before joining Asda in 1996. She became the supermarket giant's finance boss five years later and was promoted to chief operating officer by 2011.
In 2013, McKenna was lured to Bentonville – one of a talented crop of Asda executives to have jetted to Arkansas during Walmart's 23-year parenthood.
After a year heading up strategy and development for Walmart International, McKenna moved to its core US business, first as chief development officer then chief operating officer, before succeeding her former Asda colleague David Cheesewright as boss of Walmart International in February 2018.
It is a role the last two Walmart group chief executives – Doug McMillon and his predecessor Mike Duke – have held prior to taking on the top job, which could suggest McKenna is next in line for the biggest job in retail.
"You have to innovate, you have to be more customer-centric than you have ever been"

Judith McKenna, Walmart International
She may have already earned retail royalty status – not just because she attended Walmart's annual shareholder meeting shortly after Prince William's 2011 wedding dressed as Kate Middleton – but she remains as focused as ever on the retailer's strategic direction.
Given all that Walmart has accomplished to date, how far then has the business come on its transformation journey?
"It's a 'how long is a piece of string' question. I guarantee we'll get a bit further along and the world will be different again," McKenna says. "I don't think you can quantify whereabouts on the journey that you are. I think we are past the start, but not yet at the middle. But the middle keeps moving and the end keeps moving."
She says her closeness to Walmart's US business has helped drive change in her division. "Seeing that transformation over the last five years has been one of those career business lessons, in terms of seeing how all parts of the organisation start to turn around and be much more customer-centric and forward-facing," she says.
The future of retail
If those middle and end points are constantly moving, where are they moving to? What does the future hold for retail? McKenna pauses before providing her glimpse into the future.
"It all comes down to customer choice," she says. "People want to see hassle-free, seamless, easy ways of getting what they want. The more that can all be done in one place and be connected, rather than having to go into several different apps, or go to different places to collect and drop off – these are the sort of things retailers will need to think about.
"But I think people will also increasingly establish a difference between what they want and what they need. What they need will become much more functional in the way that they shop. Walmart more recently has been talking about some innovative work we've been doing on a small scale around delivery into customers' homes, where a colleague can go into your home and put what you need into your fridge as part of a subscription. It's not rocket science, because that is the need of the consumer.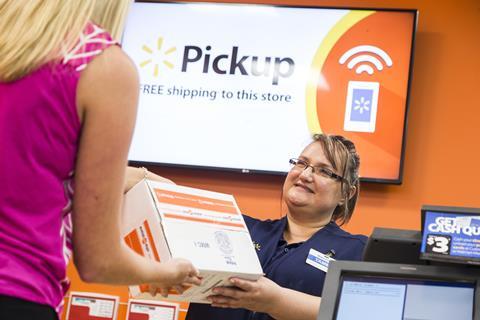 "Then you've got the 'what do I want?' That should be a much richer experience, where things like AR and VR can come into play, whether that be in store or through your website or mobile. You will get this split of the customer wants and needs – and we as retailers are going to have to respond to those differently."
She is clear a response is needed. "The option is no longer to stand still and hope for the best," she says. "You have to innovate, you have to be more customer-centric than you have ever been – and being customer-centric doesn't mean solving the problems we think customers have got, it means solving the problems that customers want solving."
McKenna is full of praise for the work being undertaken in those areas in the UK.
"We underestimate how strong British retailers are," she says. "That competitive environment creates some extraordinary talent. I don't think I go to a market anywhere in the world where I don't meet a fellow Brit playing a key role in retail.
"I enjoy coming back, I enjoy the conversations I have here, and just understanding and listening to what retailers are doing here makes people better. I hope the market continues to innovate and lead from that perspective.
"Every market has got to think really carefully about innovation. On the [Sainsbury's-Asda] merger, we continue to say that what we will be bringing to the party in the long term is the innovation from around the world. However, I do worry that in highly competitive markets, innovation is not as high on the agenda as it should be. I don't think that's the case in the UK."
Given such high praise and the clear personal affection McKenna has for her home market, does she see herself returning to a top job in British retail one day?
"You just don't know what the future looks like," McKenna smiles. "I only meant to go [to Walmart] for two years – I knew what date I was coming back. Then my career took a completely different twist. So who knows?"
With that question hanging in the air, McKenna is off – a trip to her former Asda base in Leeds is next on her action-packed visit to the UK.
Wherever McKenna and Walmart go next, the world of retail will be watching.