Walmart has failed to achieve its own results guidance for the second consecutive quarter.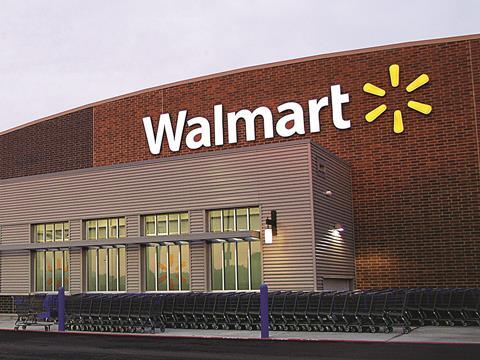 US sales at the world's largest retailer were down 0.3% in the second quarter, despite repeated guidance from Walmart that they would be in the range of 0% to 2%. That mirrored the first quarter, when guidance of "about flat" turned out to be a fall of 1.4%.
Consolidated net sales for the 13 weeks to July 26 were up 2.4% to $116.2bn (£74.26bn) while consolidated net income was up just 1.3% to $4.1bn (£2.62bn).
Walmart conceded that the 0.3% US decline was "below expectations". It pointed to the fact that it had "improved comp sales" from the first-quarter decline of 1.4%. But realistically, taking into consideration all macroeconomic factors, Walmart should have done better.
As usual, performance was very mixed across the international division, with a tilt towards the weaker end of the scale. As a whole, international sales rose 2.9% to $33bn (£21.09bn).
Across the US border in Mexico, although overall sales increased by 3.1% in the second quarter, comparable store sales were down 1.6%. Operating expenses also rose faster than sales and both wages and utilities were flagged as significant and ongoing headwinds. Everyday Low Price has now been implemented across all Walmart's Central America operations, which reported growth of 4.2% in the second quarter, but a marginal comp decline of 0.1%.
China proved something of a bright spot, with net sales ahead 6.3% and comps up 2.5%. The business is moving ahead with its Everyday Low Price implementation in China and is noticing a discernible shift from traditional daily shopping to larger, consolidated shopping trips.
Given the weakness of the first half of the year, Walmart has not surprisingly downgraded its forecasts for the year as a whole.
It now expects group net sales growth of between 2% and 3% for the full year, compared with 5% to 6% previously, in view of "current global business trends and significant ongoing headwinds from anticipated currency exchange rate fluctuations".
On the evidence of the year to date, there's little surprise in such a significant downgrade. But, worryingly, Walmart appears to be doing relatively little by way of freshening up its strategy in order to attempt to halt the decline and instead seems stuck on its rigid way of operating.
Stephen Springham, senior retail analyst, Planet Retail.
For more information contact us on:
Tel: +44 (0)20 7715 6000
Email: info@planetretail.net