As Chinese conglomerate Sanpower takes control of House of Fraser, Retail Week reports on the international ownership of British retailers.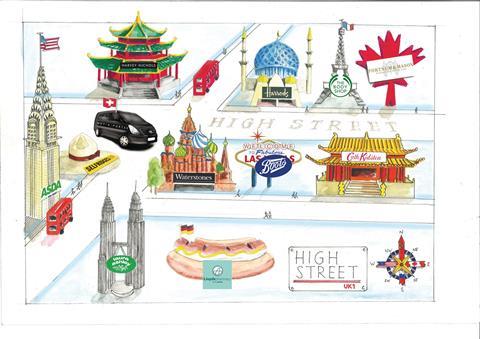 Shopping in the UK is world-renowned. About £321bn was spent in UK stores in 2013, making it one of the biggest retail markets in the world. Tourists flock in their hundreds of thousands from around the globe to visit London's iconic department stores Harrods, Selfridges and Fortnum & Mason, on the hunt for a truly British experience.
Does it matter that none of these businesses are British-owned? Some of the most well-known retail brands, from the Body Shop to Laura Ashley and Cath Kidston, are either wholly owned by international companies or a significant stake is held in foreign hands. Research from Retail Week's Knowledge Bank shows that of the 50 biggest retail companies in the UK (by sales), a third are owned by overseas investors.
Who owns what?
US: Boots, part-owned by Walgreens; Asda, owned by Walmart
Canada: Selfridges and Fortnum & Mason, owned by Weston family members
Russia: Waterstones, owned by Russian billionaire Alexander Mamut
Qatar: Harrods, owned by the Qatari sovereign wealth fund
China: House of Fraser, owned by Chinese conglomerate Sanpower
France: Body Shop, owned by L'Oreal; Hamleys, owned by Groupe Ludendo
Hong Kong: Cath Kidston – Baring Associates Asia has substantial stake; Harvey Nichols, owned by Dickson Poon
Switzerland: Net-a-Porter, owned by Richemont
Germany: Lloyds Pharmacy, owned by Celesio
Malaysia: Laura Ashley – MUI Group is the leading shareholder
UK attraction
Asda is part of American leviathan Walmart. Alliance Boots, which was established in Nottingham 165 years ago is a mainstay of the UK retail scene with 2,487 stores and 60,000 employees, was taken over by Italian businessman Stefano Pessina in 2007 and has now been merged with US drugstore group Walgreens in a £9bn deal. Department store business House of Fraser was snapped up in April by
China's Sanpower Group for £480m – reportedly the largest retail acquisition of a foreign firm by a Chinese company.
That UK retailers are seen as attractive assets is not surprising, says Dr Steve Wood, professor of retail marketing at Surrey Business School: "We have a very buoyant retail market concentrated in a relatively small geographical area. British shoppers are savvy and they have money to spend."
Accounting for 5.7% of gross domestic product (GDP) according to the ONS, the UK retail industry is a key source of economic intelligence and a crucial part of the British economy.
What is more, optimism within the retail industry about its future prospects is the strongest it has been for 12 years, according to the latest figures from the Confederation of British Industry.
But while a high incidence of foreign ownership in such a crucial industry for the UK economy might not be a popular idea among some, Wood says that from a customer perspective ownership makes no difference.
"Retail is about fulfilling customer needs and wants," says Wood. "As long as the offer, pricing and location of stores is right, I don't think shoppers care if it is owned by an international business." He argues that a bigger concern is whether some retailers can survive, given the economic pressures and challenges from new channels.
And survival in business is often determined by the owner, he adds. In some instances foreign investment has been a boon for British companies in distress: Asda, for instance, was close to hitting the buffers in the 1980s following the unsuccessful purchase of Gateway Superstores. Walmart eventually bought Asda, totally reinvigorated by UK management, in 1999 for £6.7bn, trumping a rival bid from Kingfisher. Asda has thrived under Walmart and each has benefitted the other, with Walmart sharing its global sourcing network and knowledge of competitive markets.
"A lot of businesses that are snapped up are not core to the UK economy"

Alex Brummer, author of Britain for Sale
Others have had a trickier time of it. House of Fraser, for instance, was taken private by Icelandic tycoon Jon Asgeir Johannesson in 2006 as part of a major spending spree on British retail assets.
Just three years later, his investment vehicle Baugur went bust with debts of £1bn following the collapse of Iceland's banking system. House of Fraser's investors, including chairman Don McCarthy and retail entrepreneur Sir Tom Hunter, have long been looking for new owners and even explored an IPO, until it was eventually sold to the Chinese.
Little is known about Sanpower and its founder Yuan Yafei. However, the company has signalled it intends to invest heavily in what it refers to as an "iconic heritage brand". There are plans to almost double the number of stores by opening up to 50 branches in China over the next few years. Had House of Fraser pursued its plans to float on the London Stock Exchange it is unlikely it would have been able to carry out such ambitious expansion plans.
Another factor to consider is the provenance of goods, says Wood. Demand for products that are made in Britain is on the increase, especially when it comes to luxury items. Many British luxury brands are owned by foreigners, including Net-a-Porter (majority owned by French firm Richemont) and jewellery retailer Mappin & Webb (owned by US investment vehicle Apollo Global Management). Wood says it will be interesting to see if customer perception of these brands changes as a result of foreign investment.
Shoppers are certainly becoming more aware of the tax implications of being internationally owned. When in 2012 it emerged that Starbucks had paid just £8.3m in tax since entering the UK in 1998 despite posting sales of more than £3bn, there was a backlash from consumers. And yet the same did not happen when Alliance Boots moved its tax domicile to Switzerland, following the acquisition by Pessina.
Boots' new owner Walgreens abandoned plans to shift its headquarters to the European tax-haven after coming under political pressure. The US treasury threatened to restrict tax benefits for American firms that go abroad for tax reasons and president Barack Obama accused tax-shifting companies of lacking patriotism.
As a result, Walgreens will keep its headquarters in Chicago.
Divided opinion
Alex Brummer, City editor of the Daily Mail and author of Britain for Sale, a book on foreign ownership of UK brands, has been a strong advocate of keeping hold of UK businesses.
In his book he argues that for the past three decades, the UK has had a relaxed attitude about selling off its assets to companies based abroad. Indeed, most of the time, the swallowing up of yet another British brand "barely makes a headline".
However, he maintains it is "less important" if some retailers are internationally owned. He says: "A lot of the retail businesses that are snapped up by foreign investors, such as Harrods and Selfridges, are trophy assets.
They are not core to the UK economy, neither are they strategic assets."
That does not mean that British retail institutions are not "hugely important British brands". Much of the allure of iconic department stores is deeply rooted in their Britishness. "When Harrods was owned by Mohamed Al-Fayed, he put in a lot of weird things such as the Egyptian room," says Brummer. "There is a danger that foreign owners change the nature of the retailer."
Who owns the British high street may not concern many shoppers, but the ramifications can be many and complex.