Portuguese-based retailer Jerónimo Martins is to invest €2.5bn (£2.03bn) over the next three years, with 70% directed into Polish discount chain Biedronka.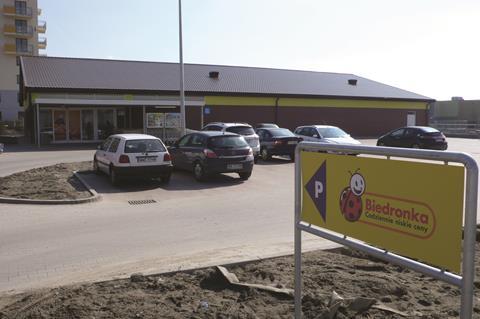 It expects average annual sales growth of 10% over the three years.
The news comes as Jerónimo Martins benefits from the subdued consumer environment in Europe. In Poland in particular, where it holds the leading position, it has been expanding rapidly, adding more than 200 Biedronka stores in fiscal 2011. This is despite Biedronka's limited assortment compared with the ranges at hypermarkets such as Carrefour and Tesco. It plans to increase Biedronka's store count to 3,000 by 2015 and open 270 shops in 2013.
The success of Biedronka is reflected in the fact Poland is one of only two markets, the other being Turkey, where a discounter is market leader.
The news of the expansion plans should perturb Carrefour and Tesco, who are struggling to keep pace with Biedronka. While Tesco has seen like-for-like sales growth in Poland slow, Jerónimo Martins is expanding rapidly. That said, Tesco continues to add footage to its hypermarket superstore and supermarket formats, albeit much slower than Biedronka, adding 11 hypermarkets and superstores, and 30 supermarkets in fiscal 2011.
For Carrefour, Poland is a market that could potentially be sold off, particularly considering its strategy to refocus on core markets. Sales of its operations in southeast Asia, Greece and potentially Turkey in the future are generating cash to fund investment in the troubled French market. In Poland, much of Carrefour's efforts centre on the expansion of its smaller formats such as Carrefour Express, while growth of the hypermarket format has slowed - echoing the saturation of this format in the market and tough competition from discounters Biedronka and Schwarz Group's Lidl. A potential sale of Carrefour's assets in Poland could offer more opportunities for Jerónimo Martins to drive growth.
Jerónimo Martins is also investing €400m (£325m) in a new market, Colombia, with the aim of operating 150 stores there by 2015.
Planet Retail takes a positive view on the move to embrace international expansion although cautions that Jerónimo Martins has failed in South America before, exiting Brazil in 2002. It is also entering the market organically, which means it will not benefit from the expertise of a local player.
The most successful means of expansion for many global grocery giants has been via acquisition.
Furthermore, the 150-store target is ambitious. Planet Retail would not be surprised to see a revised forecast in the not so distant future.
David Gray, retail analyst, Planet Retail.
For more information contact us on:
Tel: +44 (0)20 7715 6000
Email: info@planetretail.net