Ikea's proposals for market entry into India have been approved by the Cabinet Committee on Economic Affairs.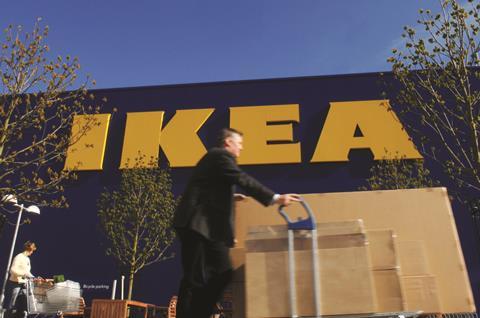 CCEA approval is the final major hurdle that IKEA had to clear in order for its proposed E1.5bn (£1.26bn) investment to go ahead. Nevertheless, even Ikea does not expect to open its doors to shoppers before 2017/18.
Ikea has had to make two major concessions: first, it must source at least 30% of its merchandise from local enterprises, preferably from SMEs; and second it will not be allowed to operate its Swedish Food Market retail areas.
Success in India is crucial for Ikea's plans to drive business in emerging markets in order to offset its high level of dependency for top-line growth on stagnant Western Europe. Sales generated in emerging markets have risen from 14% to 18% of total sales under the Ikea banner in the past five years. Russia, Poland and China have been the engines of growth.
As the proportion of middle-class consumers among India's vast 1.2 billion population rises, Ikea clearly sees the country as an opportunity it can ill afford to miss out on in the longer term.
Despite the all-important approval by the CCEA, however, the retailer's challenges in the country have only just begun.
Improving the inefficiencies in supply chain and logistics in this underdeveloped market will require significant financial resources and patience.
Acceptance of the Ikea model by Indian middle-class households will also prove key to success, but is by no means a given. Big-box home retailers have generally steered clear of the Indian market, partly because there is a tradition of wealthier Indian households having products made to order by local craftsmen, generally at very competitive prices. Overcoming this problem may involve Ikea hiring and training staff not only to deliver products but also to assemble them on site.
Because of India's poor infrastructure and low car ownership levels, Ikea is likely to have to locate its stores as near as possible to central urban areas, as it has done in China. No doubt local planning permissions will come attached with demands to improve local infrastructure such as utilities and access roads, as has been the case in Russia and other markets. All of which could add delays and cost.
Such issues are not, of course, insurmountable. The experiences and extraordinary patience the retailer has demonstrated in Russia and China should stand Ikea in good stead.
Matthew Stych, research director, Planet Retail.
For more information contact us on:
Tel: +44 (0)20 7715 6000
Email: info@planetretail.net