Indian ecommerce group Flipkart has launched its long-awaited Marketplace platform for third-party sellers.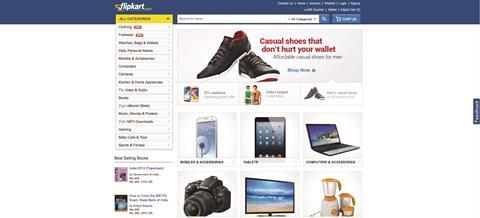 It will offer logistical services in addition to listing products.
Flipkart claims that in the last year more than 80 million unique visitors used its website, equating to five out of six online shoppers in India. Providing access to such a huge user base will appeal to third-party sellers and help Flipkart achieve what has until now been elusive - namely, a profit.
However, the big threat comes from Amazon's Junglee.com, which launched in February 2012.
Amazon, the best-known online marketplace, has both B2B and B2C operations, while Rakuten, the Japan-based ecommerce player, is rolling out its unique marketplace model to all its websites, including Play.com.
In mimicking Amazon's approach, Flipkart is to provide sellers with support, from back-end logistics through to the front-end user experience. This controlled marketplace approach is more likely to succeed than a pure marketplace platform, as small merchants are not geared up to give the necessary levels of customer service.
It is here that Flipkart can make some big wins.
In addition, with India's Foreign Direct Investment (FDI) regulations favouring the marketplace model, Flipkart is ideally placed to attract non-domestic players looking to enter the country. Compared with traditional retail models, adopting a marketplace approach can offer substantial reductions in overall costs, depending of course on the scale and scope of the particular retail operation. This will be especially appealing to new entrants, who will not need to incur key operating costs, and attractive to individual domestic sellers, who are likely to see it as a good way to make a profit.
These players will also be able to exploit Flipkart's brand equity, mitigating the need to invest heavily in establishing a presence of their own. FDI also insists on procurement from small and medium enterprises, which will help marketplace sites when - or indeed if - FDI is ever permitted for ecommerce in India. As a result, competition among the operating retailers is fierce.
Flipkart's new platform is likely to ensure its reign as India's largest ecommerce entity continues for some time, while helping it achieve profitability.
However, many retailers' biggest foe, Amazon, could yet prove to be the one to put a spoke through Flipkart's wheels.
Malcolm Pinkerton, senior retail analyst, Planet Retail.
For more information contact us on:
Tel: +44 (0)20 7715 6000
Email: info@planetretail.net