Esprit, the mid-priced clothes retailer has been hit by the economic downturn.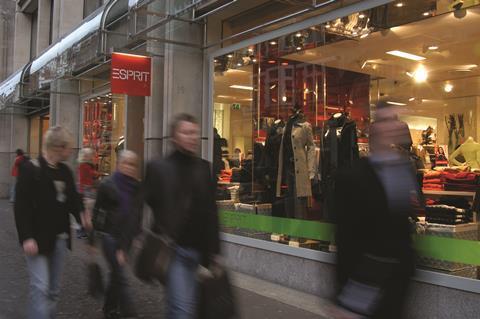 The euro crisis, a glut of unprofitable square footage, excess inventory and instability at the top - all factors cited by Esprit chief executive Jose Manuel Martínez Gutiérrez, a former Inditex operations and distribution director, as hindrances to his company's turnaround strategy. Sales growth continues to be negative, China sales have been disappointing and investors are worried.
Martínez has been at the helm of the struggling clothing retailer for less than a year. It's a brand that first opened in San Francisco in the 1970s, peaked in popularity in the 1980s and early 1990s and has been unravelling since.
Martínez was recruited from Inditex with the hope of giving the Hong Kong-listed group the Spanish clothing giant's Midas touch.
At an investor conference last week, the Esprit boss pointed to structural change in the clothing sector as one of the chief causes of Esprit's demise. A massive shift in favour of vertically integrated retailers such as Inditex has taken its toll on companies that operate a more traditional model like Esprit.
Esprit relies on wholesale for the bulk of its business. However, this part of its trade has been affected by the declining market share of department stores and multi-branded clothing retailers in some its largest markets including Germany.
A shift has also come in the form of changes in consumer spending on clothing. Since the economic crisis in Europe, shoppers have less money but higher expectations when it comes to value and quality.
This means that those retailers positioned in the mid-price category, like Esprit, have to work harder to justify their higher prices, or consumers will trade down to the likes of H&M or Primark.
For Martínez, the solution for Esprit is to replicate his experience at Inditex by recruiting from his old company and to install a vertically integrated business model. Martínez sees this model as representing the starting blocks of a plan that will reverse Esprit's fortunes.
This process is expected to not only benefit Esprit's retail stores but also its wholesale business, which should profit from a faster reaction to consumer demand. Esprit's transformation to vertical integration is a long-term strategy.
But it is not all doom and gloom for mid-priced retail. Gap's successful turnaround illustrates that retailers can make themselves more relevant to the clothing retail environment. One hopes that it is not too late for Esprit to do so.
Isabel Cavill, senior retail analyst, Planet Retail.
For more information contact us on:
Tel: +44 (0)20 7715 6000
Email: info@planetretail.net