French grocery giant Carrefour has posted disappointing results for the first half of the year, mostly because of difficult conditions in the austerity-hit countries of southern Europe.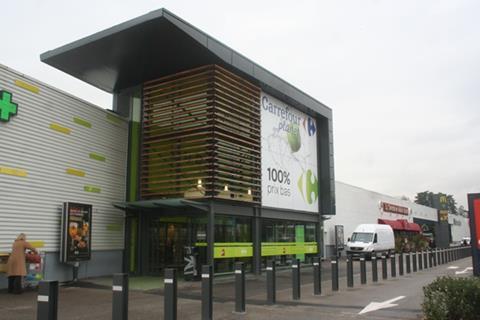 Sales were up 0.9% to E38.9bn (£30.8bn), while EBITDA fell 4.6% to E1.59bn (£1.28bn). In its home market, sales were down 0.5%, and continued investment in price reduction also hit margins. In the rest of Europe, sales slipped 1.8% at constant exchange rates.
The picture was much more positive in Latin America, where both sales and operating income growth remain strong. Brazilian operations performed particularly well.
Sales in Asia increased 0.7%, marked by flat sales and wage inflation in China, and a sustained sales increase in Indonesia.
New chief executive Georges Plassat highlighted that the grocer would focus on defending its key markets of France, Brazil and China, while making disposals and consolidating in less profitable territories.
In recent months, Carrefour has franchised its joint-venture stores in Greece, and divested operations in Singapore. It is likely that its Malaysian operations could soon follow suit.
Another focus will be price cuts and debt reduction – Plassat has stated that Carrefour may pull back from investing in countries such as Poland, Turkey and Indonesia in the short to medium term.
In line with the grocer's focus on value, in terms of private label Carrefour will continue to introduce brandless entry price products alongside the Carrefour Discount range.
Plassat noted that Carrefour displays more than twice as many economy lines than its competition, but stressed the need to rationalise the offer.
Domestically, Plassat said that all of the Carrefour Planet stores will be branded back to Carrefour, after the mega hypermarket stores failed to deliver. However, ideas introduced by the team under former chief executive Lars Olofsson could be implemented across other hypermarket stores.
Unlike other French hypermarket businesses, non-food ranges will not be cut, with a rationalisation strategy being the preferred way of competing with the growing numbers of specialist stores.
This means Carrefour will remain affected by a fall in consumer discretionary spend, and will lack competitiveness against specialist and online retailers.
Aisling Balfe, custom research analyst, Planet Retail.
For more information contact us on:
Tel: +44 (0)20 7728 5600
Email: info@planetretail.net