Last week, Metro Group revealed it had sold its Real hypermarket business in Poland, Romania, Russia and Ukraine – including real estate assets – to French grocer Auchan for e1.1bn (£893.4m).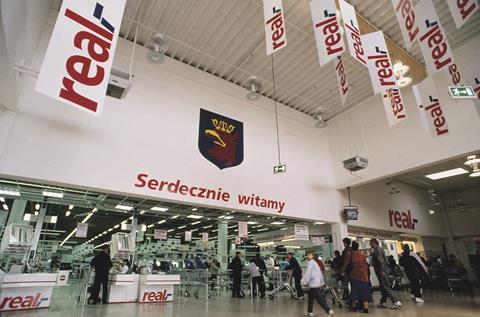 The business reported sales of e2.6bn (£2.11bn) in 2011 and has 91 hypermarkets.
The acquisition adds to Auchan's existing 98 stores in the four markets, nearly doubling its chain. The move is strategically sound for a company that acquired Louis Delhaize's Cora hypermarkets in Hungary earlier this year.
In the past, Auchan's priorities have been western Europe and Asia, but the purchase of Real's retail activities boosts its operations in central and eastern Europe (CEE) to the point of making it a major opportunity for business.
The deal is likely to formally go through next year once the transaction is approved by the anti-trust authorities. Following this, the Real stores will be rebranded as Auchan, strengthening the retailer's brand in the region. Auchan's private-label products will also be rolled out to the former Real stores.
This, along with increased purchasing power, is a fantastic opportunity for Auchan to up its profit margin.
The French grocer will capture a significant market share in the Russian grocery retail sector, which could be seen as a lost opportunity for rivals Walmart and Finland's Kesko – players that have both expressed interest in the market.
Additionally, Auchan's increased market position in Romania and Poland will pose a threat for Carrefour. However, Romania will prove more challenging as, despite having operated in the country since 2006, Auchan has not yet reached break-even point.
Metro Group will keep hold of Real hypermarkets in Turkey. Auchan is unlikely to have shown interest in the operation, as it does not have an existing presence in the market. This underlines its dedication to strengthening its existing activities in CEE.
Interestingly, Auchan decided against acquiring a small number of Real stores in Romania. While Metro Group sees potential for its Real operations in Turkey, it is still looking for a bid for its remaining unprofitable stores in Romania.
The successful disposal of its other assets, however, will enable it to focus on its core activities thanks to a cash inflow of e600m (£487.3m) and a reduction of net debt by e1.5bn (£1.22bn).
Louise Howarth, retail analyst, Planet Retail.
For more information contact Planet Retail on:
Tel: +44 (0)20 7715 6000
Email: info@planetretail.net