Amazon's results last week gave some hope for multichannel competitors, particularly internationally, as growth slowed to 22% in its first quarter.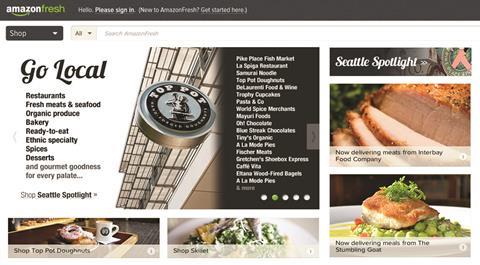 Sales reached $16.07bn (£10.37bn) for the period, growing 26.4% in North America and 16% internationally (21% in local currency). This compares with a 34% jump for the same period last year. Operating income fell 6% to $181m (£119.9m), which included a $12m (£7.9m) impact from foreign exchange rates. Net income fell 37% to $192m (£127.2m).
However, Amazon's ambitious growth plans, investment and long-term vision remain, and latest developments demonstrate that there is likely to be little respite for competitors. Amazon's profit margin increased to 26.6% from 24% a year ago, indicating underlying profitability, and Planet Retail anticipates that Amazon will be the second largest global retailer behind Walmart by 2017.
Amazon's growth in North America has been largely driven by Amazon Prime, which bundles digital content including movie streaming and Kindle ebook rentals alongside free delivery. Chief financial officer Tom Szkutak told investors that customers saw Amazon Prime as "great value" and membership was growing fast, demonstrating cross-shopping trends and additional spend across a broader range of categories.
Amazon is investing heavily in product development of its Kindle family, with a smartphone expected to be released later this year and rumours of a set-top box for TV content.
Amazon Studios is following Netflix into developing its own original content and this month unveiled its first efforts -eight adult comedies and six children's shows, which are now on Amazon's site for evaluation by customers.
With the addition of 20 Amazon distribution centres in 2012, speculation is rife that the company is poised to increase its focus on same-day delivery. In the US it may also broaden its Amazon Fresh grocery delivery operation, which has been piloted in Seattle since 2007.
Finally, speculation is growing that Amazon may open its first bricks-and-mortar store this year, with likely locations cited as Seattle and London.
The move makes sense in light of similar developments by Google and Microsoft and could be a potential game-changer for multichannel players.
Lisa Byfield-Green, senior analyst, Planet Retail.
For more information contact us on:
Tel: +44 (0)20 7715 6000
Email: info@planetretail.net