Two very different, but innovative, confectionery concepts deliver experiential retail to sweet-toothed Tokyo residents.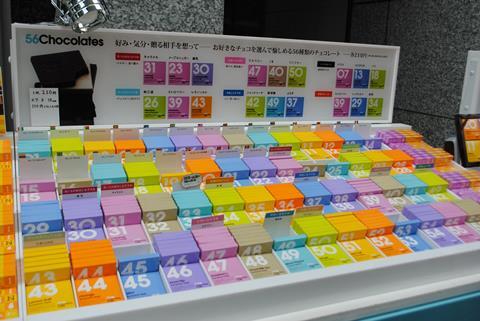 Spanish sweets brand Papabubble sets itself apart from the rest of the confectionery retail landscape with engaging worker theatre.
Customers are invited to watch as the staff handcraft unique bonbons by pulling long strings of candy before cutting them into bite size morsels. These are then packaged up and displayed in vibrant and playful arrangements in the retail section of the store.
The rest of the interior has been designed with a predominantly black and silver colour scheme, making the product stand out and look more enticing.
100% Chocolate Café uses similar techniques to draw the eye to its sweet treats. Vibrantly packaged bars are stacked together in an otherwise muted interior. Next to each variety, signage provides recommendations based on taste profiles and popularity. These include gender specific chocolate and bestsellers in that specific location.
As well as purchasing the product to take home, customers can also sample cocoa-infused delights in the café area where the chocolate varieties are heroed in an impressive wall display.
Consumer Insights
Multi-functional spaces, for example where shopping and socialising are combined, create more of a destination for consumers. Encouraging dwell time and in-store sampling increases the opportunities for impulse purchasing.
Brand take-away
Providing a sense of theatre through displaying craftsmanship or creative visual merchandising grabs consumer attention by engaging multiple senses. Meanwhile targeted recommendations help consumers cut through the noise and make more informed decisions.
Brought to you by Fitch. FITCH is a global brand and retail design consultancy Bold Thinking, Seamless Experiences