The "please touch" ethos of German outdoor sports retailer Globetrotter aims to inspire wanderlust in even the most unadventurous of consumers.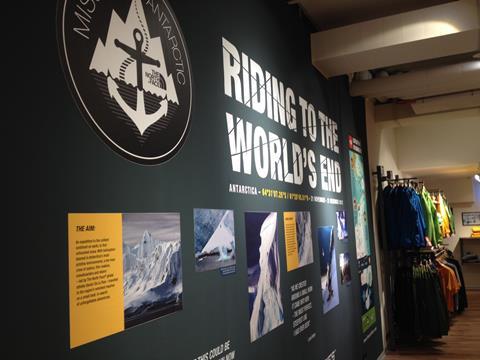 The four storey retail destination in Cologne has a number of innovative features that allow visitors to try items before they buy and to find the best possible products for their needs.
These include a 240 square-metre pool in the basement where water sports enthusiasts can try-out canoes or even take a scuba diving lesson. There is also a cold room for testing skiing and mountaineering gear as well as a shower compartment for waterproof clothing. Simple technology is used to create an engaging extreme-weather experience.
The store has been designed to cater for all – from hardcore adventurers to families planning a camping trip. Dwell time is encouraged with different areas to explore, including two cafés and a restaurant. Some customers have even been allowed to camp in-store overnight.
There is also a travel agent and clinic section where customers can plan trips and get vaccination shots. A substantial portion of space has been given over to The North Face whose sponsored athletes and expeditions are showcased.
Shopper Insights:
This inspirational concept encourages consumers to spend time in-store dreaming about the great outdoors.
Brand take-away:
The opportunity to test products engenders a greater sense of trust.
Brought to you by Fitch. FITCH is a global brand and retail design consultancy Bold Thinking, Seamless Experiences