Can you get guys to actually enjoy shopping for clothes? A pilot store in Seattle from online retailer Hointer is trying, by bringing some of the click-and-browse functionality of the web into a physical space.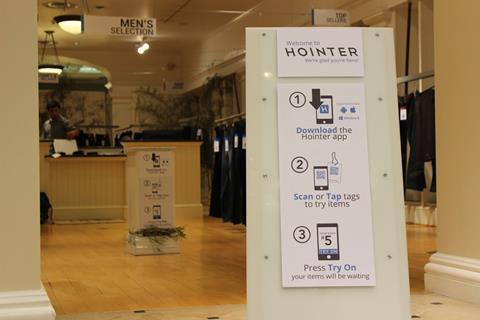 The showroom, located near the University of Washington, predominantly sells jeans and offers ten times the selection typically found in a store.
The trick is that much of the stock is not on immediate display but instead is brought from storage to the shopper on request by an automated system. Using Hointer's mobile app, a shopper selects items by scanning their QR codes and then is assigned a dressing room.
Cutting-edge German robotic technology dispatches the selected items to the dressing room. Press a button to request a different size or inseam, and it appears within seconds. Place unwanted items in the 'return' chute and they are automatically removed from the app's shopping cart.
Sales associates offer guidance and assistance but only on request. The store is free of pushy sales tactics and staff are incentivized to simply shift stock.
A number of fashion retailers, including J Crew, Burberry and Lululemon are expanding into standalone menswear stores and creating environments specifically designed to appeal to this audience. However, the creation of physical stores that mimic aspects of digital shopping convenience should also appeal to all tech-savvy shoppers.
Consumer insights
Many men want hassle-free shopping. To attract this savvy male consumer, brands are developing faster, simpler, more technology-assisted experiences.
Brand take-away
Embracing the digital era allows retailers to boldly reimagine the shopping experience, offering the best aspects of in-store and online shopping. Ecommerce metrics can be integrated into bricks-and-mortar stores, which means retailers and brands will better understand their consumers, products, and operations.
Brought to you by Fitch. FITCH is a global brand and retail design consultancy Bold Thinking, Seamless Experiences