Each boutique of French chocolatier Patrick Roger makes an architectural statement. His store in Brussels, located in the heart of the Belgian chocolate industry, is a characteristically bold showcase of both his products and his artistry.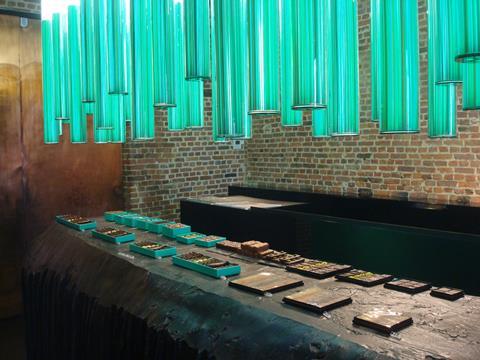 Some of the most famous brands in Belgian chocolate have their showrooms around the Place du Grand Sablon in Brussels. Many resemble refined jewellery stores, but Patrick Roger's boutique stands out for its individuality and quirkiness.
Famed for his sculptures as well as his chocolate, the Roger store appears like a contemporary art gallery. The centrepiece is a giant sculpture, originally in chocolate but now recast in bronze after the customers kept on breaking off chunks to eat.
The shop window operates as a constantly changing exhibition space, for example featuring a giant chocolate pumpkin for Halloween. The result is a constant crowd of onlookers peering through the glass. Inside the store great care has been taken to combine ancient and modern in a way that creates a compelling experience.
Key elements of the 200 year-old building have been preserved, including huge beams and exposed brickwork. Murals were added when the space was previously a Russian restaurant and these have been retained too. But as well as the sculptures, the shop is given a modern accent by an imposing light display in trademark green, accentuating the 23-foot high ceiling.
Consumer insights
Rather than presenting chocolate like expensive jewels, the Patrick Roger store is a multi-sensory experience. Tactile bronze, floating lights and a clever combination of old and new tells an engaging story.
Brand take-away
Patrick Roger emphasises chocolate as a creative medium rather than simply an enjoyable treat. This produces a far deeper brand experience for the customer.
Brought to you by Fitch. FITCH is a global brand and retail design consultancy Bold Thinking, Seamless Experiences