Indian etailer Koovs has said it will need to seek further funding to counteract high marketing costs over the last year.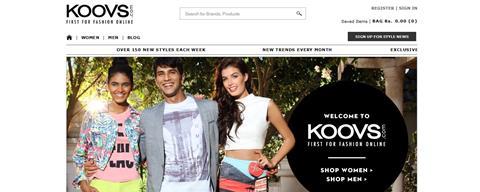 The fashion etailer said the rapid growth of the Indian ecommerce market caused the cost of its marketing to increase by more than £2m.
Share prices took a hit as the etailer lost half its value on the London Stock Exchange following the announcement.
The business, which floated a year ago, said it expects these higher costs to continue as the Indian ecommerce market explodes from $2.3bn (£1.54bn) to $32bn (£21.5bn) over the next five years.
Koovs chairman Waheed Alli said: "The marketing costs are higher than we had anticipated reflecting the pace of growth in the Indian economy. We will therefore seek further funding in due course to realise the potential of the business and the market."
Sales up
Meanwhile, the etailer reported strong sales growth as it extended its international fashion brands from 30 to 70, but noted the cost of marketing for the year to March 31 is likely to be INR210m (£2.3m) higher than originally anticipated.
The etailer, which will announce its full-year results on July 2, said its net cash within the Koovs group will be £12m.
"We are pleased with the progress made in our first year. By any standards we have delivered exceptional growth as we continue to strengthen our fashion-forward credentials in India. We have great product, at the right price, presented in a fashion-credible environment and this is resonating with consumers," said Alli.
Koovs also said it launched a number of apps as well as a mobile site over the last year.