French electricals retailer Darty has swung back into profit for the year despite a fall in sales after significant cost cutting.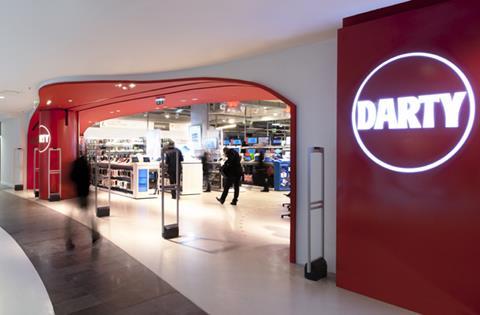 Darty made a profit of €13.8m (£9.9m) for the year ending April 30, having posted a €6.6m (£4.7m) loss the previous year.
Like-for-likes decreased 1.6% during the year as a result of "challenging market conditions", while group revenue increased by 3.2% to €3.5m (£2.5m).
Darty reveals it has made €50m (£35.9m) in cost savings as part of its Nouvelle Confiance strategy.
Darty chairman Alan Parker said: "In difficult market conditions we have delivered on our Nouvelle Confiance strategic plan.
"We have completed the elimination of our non-core businesses, continued to make market share gains and reached our target of €50m cost savings ahead of schedule. We have also identified and started to implement our new growth initiatives."
Darty's expansion plan included opening 39 franchise stores, offering same-day delivery, launching a new website and expanding its kitchen offer into 16 further stores, taking it to 71 stores in total.
Online results
The retailer recorded a 22% increase in web generated sales in France following the acquisition of Mistergooddeal.com, bringing web penetration to over 17% of product sales.
Chief executive Régis Schultz said: "Across the group we delivered on new initiatives, particularly in France, where we have introduced same-day delivery and after-sales service offers, updated our website, launched 'Le Bouton', a 24-hour connected service device, digitalised our stores and recently developed a new connected store card.
"Whilst we have started to see signs of improvement in consumer confidence, the product cycle will continue to have an impact on our markets, which are expected to remain challenging."
During the year, Darty also acquired 18 profitable stores in the Netherlands for its BCC operaton, helping it outperform the market.
It has also cut losses in its non-core markets with the sale of its shareholding in Datart in the Czech Republic and Slovakia.