Carrefour's second-quarter results remained in line with the first quarter as the retailer posted turnover down by 0.4% to j21.71bn (£17.03bn), excluding petrol and at constant exchange rates.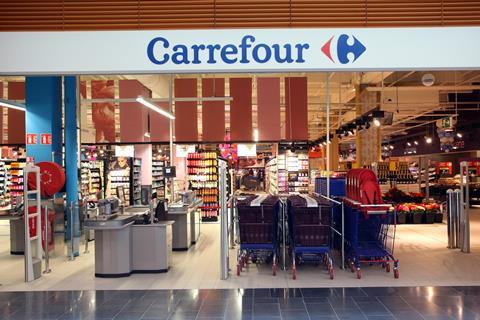 Carrefour is still hindered by its heavy reliance on Eurozone-affected Western European markets, and by its core hypermarket format – a model particularly impacted by lower discretionary spending on non-food.
In its domestic French market, sales crumbled by 3.6% to j9.66bn (£7.58bn). Elsewhere in Europe, sales fell by 2.7% to j5.76bn (£4.52bn).
Carrefour's presence in key emerging markets offset woes felt elsewhere thanks to continued growth. Latin American's sales soared by 8.8% during the quarter. That said, not all was rosy in the developing markets.
In China, like-for-like sales slumped by 3.6%, replicating a trend that has occurred for several quarters.
In order to turn its business around, Carrefour will need to improve group profitability by focusing on its most dynamic growth markets, such as Latin America. Simultaneously, the retailer should create franchises or divest its non-profitable operations – in the same way it did in Greece – in order to boost liquidity. In terms of new opportunities, as long as India maintains its regulatory stance on multi-brand retail foreign direct investment, Carrefour has time to potentially enter this major market from a strong position.
New chief executive Georges Plassat said he will need three years to save the Carrefour liner from sinking. To do so, he will need to maintain a long-term low-price strategy in a competitive market, with decreasing economies of scale while remaining profitable: a big ask and one that is likely to see it exert further pressure on manufacturers' margins.
The retailer will have to find the required financial muscle to invest heavily in growing economies while stocks are at an historic low. Carrefour managed to reduce its debt in 2011, but given its current situation, it would be unwise to increase them again.
Divesting current operations is the mostly likely way Carrefour can generate cash. Turkey, Tunisia, Malaysia and Singapore are markets most likely to find themselves in the firing line, but the question remains whether anyone is willing to buy those operations.
For more information contact us on:
Tel: +44 (0)20 7728 5600.
Email: info@planetretail.net