Fresh & Easy proved to be a misstep for Tesco when it launched in the US in 2007, but will the grocer fare better under new ownership?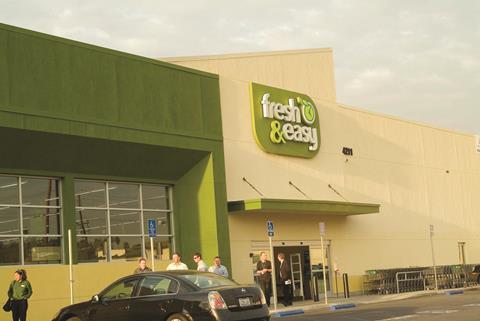 Back in 2013, Tesco essentially paid billionaire investor Ron Burkle's Yucaipa Companies to take Fresh & Easy off its hands, ending a US folly referred to by many as the biggest failure in supermarket history.
However, now under new ownership the hope is that Fresh & Easy can be transformed into a viable player in what is an already hyper-competitive market. This is a tall order, and questions remain as to whether Burkle is in it for the long haul, or simply readying Fresh & Easy for a profitable sale.
If the retailer decides to expand, eastwards would make sense. Yucaipa reportedly has broad real estate holdings on the East Coast, while Burkle could leverage his extensive contacts in politics, retailing and New York real estate to come up with prime locations for Fresh & Easy stores.
Expansion aside, management is getting back to basics under the purview of Burkle's handpicked chief executive, Jim Keyes. As former boss of 7-Eleven US and the main architect of its turnaround, Keyes boasts the small-store retailing experience that will be important to Fresh & Easy's resurrection.
Merchandise is being bolstered with the Wild Oats brand, which interestingly Keyes owns, and it could replace the Fresh & Easy brand. If that were to happen, it creates an interesting conundrum. Walmart sells a range of Wild Oats products, and although currently not competing with Fresh & Easy, given Walmart's small-box aspirations, it could impact plans to expand Fresh & Easy.
When it comes to reinventing the store format, a new concept is being tested in Las Vegas that could either help drive future growth or just become another upscale convenience store.
Although the concept is being positioned somewhere between a Whole Foods, Trader Joe's and a 7-Eleven, the concern is that it may become a slightly generic convenience store of little differentiation.
There is no word yet on when the new Fresh & Easy will be rolled out in California and Arizona. It will be interesting, however, to see how successful Fresh & Easy will be in tailoring stores to individual neighbourhoods, or whether it will fall foul of adopting the template approach that got it into trouble in the first place.
For now at least, it appears Burkle is serious about turning around Fresh & Easy and expanding it into a regional, if not national, powerhouse.
Malcolm Pinkerton is a research director and Planet Retail