Megacities remain a hot topic as urbanisation, wealth centralisation and diverse consumer communities have piqued multinationals' interest.
What are megacities?
More than half of the world's population now live in cities. The global slowdown in economic growth has not arrested increasing urbanisation in developing regions.
In 2015, both World Bank data and the Planet Retail database indicated that Asia will become the fastest-urbanised region on earth.
Huge cities of 10 million-plus residents such as Tokyo, Shanghai, and Bangkok stand out as, not only their respective nations' gauge of economic health, but also as the nexus of retail, possessing unique characteristics from the remainder of the country.
Consequently, Asia's retailers are struggling to adapt to the massive markets, which are defined by high maturity, consumer density and the potential growth for national coverage. Many are also evolving as they pursue alternative routes to growth in these cities.
We provide city rankings according to the size of retail sales.
However, a number of different metrics can be factored into the equation, such as domestic retail market strength or the retail market growth rates in years to come.
Consumer spending elevates retail attractiveness
Thanks to burgeoning middle classes and rising affluence levels, Asia's top cities also define a country's attractiveness in terms of size of spend and consumption.
For most of our cities, consumer spending is higher than most of the average national consumer spending.
Among all those listed, Taipei had the highest spending/capita in 2015, while that of Karachi was 10 times lower, demonstrating the significant gap between Taiwan and Pakistan.
It is a truism that, in Asian consumer spending, half is on grocery, meaning there is ample growth headroom for food retailers.
The top 10 leading Asian megacities are also home to Asia's most famous retailers, namely AEON, Lotte Shopping, E-mart, Seven and I and Dairy Farm. Accompanying our ranking is a guide highlighting the most innovative new flagship stores constituting the best regional retailing concepts.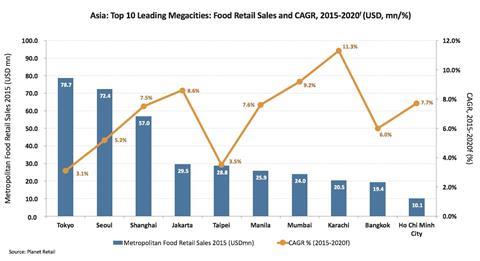 Tokyo is at the forefront of Asian grocery retailing, a true powerhouse and testing ground for many big retailers.
Market maturity and consumer adaptability demand more advanced retailing concepts and greater technology innovation, on which retailers and suppliers should keep an eye to detect the latest trends. Nevertheless, market saturation is almost total, meaning new entries and/or expansion opportunities are minimal. Tokyo brings together many of retail's big beasts such as AEON, 7-Eleven, Walmart Seiyu and Costco. Although maintaining a sluggish growth rate, Tokyo will still lead Asian retailing in 2020 by retail sales and market maturity.
Shanghai emerges as the largest Mainland China consumer market. Sheer size, population growth and economic scale has transformed the city into one of the most compelling landscapes for international retailers on a global scale. As to the nature of its modern retailing aspect, Shanghai is suitable for classic retail concepts, with an emphasis on premium and niche retailing.
Jakarta is the hub for Southeast Asian retailing with the dynamic retail climate demanding inward investment from regional operators. Indonesia's dramatic explosion of ecommerce has made this hot spot well-placed as the next Asian online destination after China.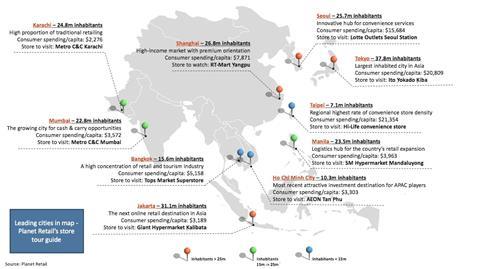 Ho Chi Minh City features the busiest and the most changed retail environment in Asia in the past five years. Vietnam's largest city has opened up for the region's leading retailers such as AEON, E-Mart, Dairy Farm and Lotte, along with Thailand-based conglomerates following significant relaxation of retail regulation amid surging demand for modern trade and affordable imported products. Retail density in the market is high, which is why HCMC is forecasted to become the fastest-growing modern retail market in Asia by 2020.
What do megacities mean for retailers and companies?
Income disparity and demographic diversity advance the need for format evolution – Although megacities contain relatively affluent shopper segments, disparities in income and social demographics compel retailers to consider suitable formats for each consumer segment. South Korean and Japanese retailers are developing specialty stores and discount formats side by side with their big-box presence as a defence against fierce price competition in their home markets. At the same time, premium specialty stores are flourishing in Shanghai in response to heightened Chinese shopper desire for imported, safe and high-quality products.
Operational costs constrain network expansion – Megacities are the first port of call retailers choose when entering a new market. However, it cannot guarantee long-term robust or stellar growth because of the financial burden of operating in such 'high maintenance' environments. Established retailers are now thinking of looking to megacity satellite areas, such as tier 2 or 3 cities. For instance, Saigon Co.op has been aggressively expanding coverage from Ho Chi Minh City to its suburbs recently, positioning itself as the supermarket chain with the widest coverage in Vietnam. The retailer is using its Ho Chi Minh City logistics operation as a distribution hub to fulfil the fast-growing hinterland network.
Sophisticated consumers crave instant solutions – Owing to busy megacity lifestyles, online and convenience are currently the hottest trend for retailers. Convenience retailers in Taiwan and South Korea are among those tapping this online mania with many innovative localised services including everything from laundry and home delivery to app-ordered lunchbox meals. Meanwhile, growth of Indonesian ecommerce will be further fuelled by international retailers such as Lotte Shopping and Lazada, now backed by Alibaba.
Implications
Asian megacities' infrastructure will be tested by major retailer expansion. Outward growth to suburbs and satellite cities will also demand more complex logistics and supply chain capacity. Retailers and suppliers alike are now building out capability in readiness.
Highly dynamic hot spots may offer phenomenal growth, but planned growth should be planned long term to mitigate risk. Operational costs in big cities can challenge even big players once competition mounts.
We will be interested to see how retailers develop their concepts. With the rise of 'smart cities', Asian retailers are moving ahead of their Western peers in embedding integrated business models.
Expansion instincts are accelerating international retailer penetration of Asian megacities. Those successfully acquiring the right space in the right place and at the right time will enjoy sustainable and profitable growth.
Anna Hoang is associate analyst, Asia, at Planet Retail. This article first appeared on Planet Retail.