Walmart is driving efficiencies in its distribution centres by using "emerging sciences" to speed up a number of everyday processes.
The US retail titan took journalists on a tour of its warehouse in Bentonville on Thursday to showcase some of the changes.
Retail Week takes a look at three of the key ways Walmart is using technology to improve the efficiency of its operations.
Drones that manage inventory
Walmart is piloting the use of drones to manage inventory at its distribution centres in a fraction of the time it would take to perform manually.
The Asda owner provided media with a sneak peek of the test drone, which captures 30 images per second and flags any misplaced items. A control tower oversees the images on a screen and sends alerts to staff to fix any issues.
Walmart, which did not allow reporters to take any pictures or video of the drone in action, said the drone had the capability to check inventory across the distribution centre in a day or less – an operation that takes about a month for staff to undertake.
Employees currently stand on lifts that transport them up and down the stacks to scan items individually to make sure they are being stored in the right place ahead of transportation to Walmart stores.
Walmart's proprietary technology, which sits on top of the drone, could be rolled out across its 190 distribution centres in the US within the next six to nine months if the trial is successful.
Hydrogen forklift refuelling stations
Walmart is moving from using battery-powered forklifts within its distribution centres to vehicles that run on hydrogen.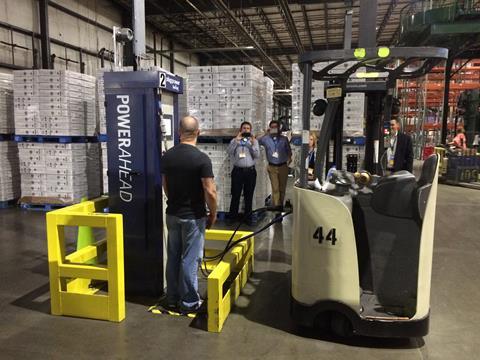 The retailer said the move will boost performance of the forklifts, which operate at slower speeds when they are low on battery.
Walmart is working with a company called PowerAhead to install refuelling stations across its warehouses, which employees can use in the same way they would when filling a car with petrol.
Distribution centre bosses said it takes around three minutes for a worker to fill their forklift with a tank of hydrogen, compared to the eight-minute turnaround time required to replace a drained battery with a fully charged one.
Automatic case labelling
Walmart is beginning to use automatic case labelling machines to save even more man hours at its warehouses.
One staff member is required to operate each machine, of which there are six at the Bentonville distribution centre.
Cases of goods are placed onto the machine's conveyor belt, before sensors automatically scan the barcode on the box to acquire information about the product.
It then prints and sticks labels to the box, allowing staff to see extra information on the product and ascertain whereabouts it should be stored.
Walmart hailed the machines' "seamless" and "continuous" operation as a further way of driving efficiency among its warehouse workforce.
When the task is completed manually, staff would be able to label between 200 and 300 cases per hour, compared to the 700 that the automatic case labelling machine can clock up in the same period of time.