The world holds its collective breath as Donald Trump is set to be inaugurated as the US's 45th president later today.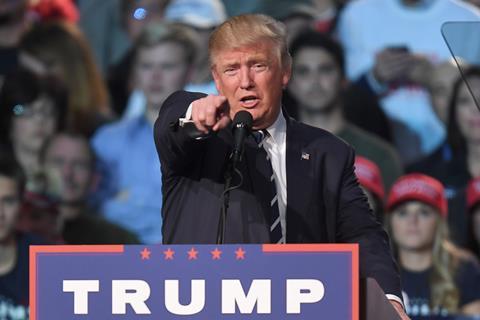 The billionaire and reality TV star has added to the growing divide in the country with his controversial remarks and plans.
So what could be the potential impact for UK retailers?
Global economic uncertainty
With Brexit still brewing, the last thing retailers need is more uncertainty to hamper consumer confidence.
But as a political outsider with a questionable temperament seizes the White House, that feeling could easily spread across the Atlantic.
With share price falls on Wall Street lower than expected and the FTSE 100 rebounding when Trump was first elected president, it appears initial concerns have been allayed. But who knows what is in store?
Either way, Sainsbury's boss Mike Coupe appeared unconcerned when asked about it in November.
"We live in uncertain times and this just creates another layer of uncertainty, but our day job is about executing our plans," he said, following the grocer's half-year results.
"We are very clear about what we are going to do and we are getting on and making that happen."
Currency conundrum
UK retailers have been reeling as a result of sterling's freefall since the EU vote.
And despite predictions that Trump's victory would lead to a weaker dollar, the greenback has been soaring since the election.
However surprising remarks from Trump at the weekend suggested the dollar was "too strong". If the dollar did decline, due to some of Trump's policies, this would bring better news for UK retailers.
"We could see something of a reversal of the post-Brexit rerating due to the fact that a number of UK domestic retailers source mainly in dollars," say analysts at Peel Hunt.
"Most retailers are hedged out for 12-18 months, but the hedges do come off eventually, so a shift in currency would be mildly helpful".
Due to its lack of hedging, Sports Direct could be the retailer that is "likely to over-react to a weakening of the dollar", according to the analysts.
Doing business in the US
Trump has promised to seek a rapid trade deal with the UK post Brexit.
The tycoon had previously talked of a protectionist trade policy that would see the country withdraw from global trade alliances. However it appears that his fondness for the UK and the Brexit vote means this should not apply to the UK.
A report in October from Global-e suggested that for the majority of British retailers – 59% – the US was the most important overseas ecommerce market. Boohoo and Asos are among those that trade online in the US.
However it has been pointed out that a separate trade deal with the US could bring about compromises for UK exporters on areas such as food safety. American firms are more likely to demand that the UK conforms to their product standards rather than the other way around, it has been suggested.
Mexico – less of a retail attraction?
Latin America's second-largest economy has been considered as a land of opportunity for retailers in recent years.
In August, Cath Kidston said it was planning to launch in Mexico as part of global expansion plans. Ted Baker also opened a store in the country in its last financial year.
But with the peso in freefall today, Mexico's economy could suffer in the wake of a Trump presidency. The Republican has made building a wall between the US and Mexico one of his key pledges.
The question mark over Mexico could put UK retailers off expanding into the country.
*This is an updated version of an article that first appeared on November 9