Asos has become the poster child of UK online retailing. As it records another stellar set of results, Retail Week looks at the lessons of its success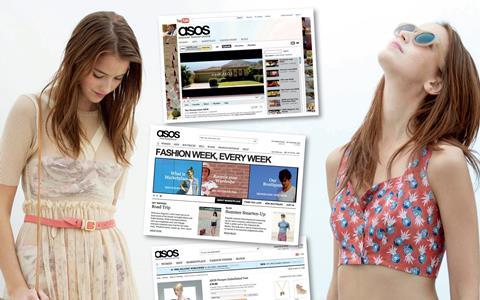 Asos has led the charge in online retailing, both in terms of its sales growth and its technological innovations. The fashion giant is held up as an example of how to run a successful online retailer, and one which many other retailers try to ape. Retail Week outlines 10 reasons for Asos's growth which retailers can learn from.
Mobile will be massive
Although online retailing is barely out of its infancy, seismic change is already under way in the form of m-commerce. The use of smartphones, tablets and other mobile devices is growing exponentially.
In the seven months since its launch, Asos's mobile site has grown to account for 7.5% of the etailer's total visits. The value of sales made through the mobile site has not been disclosed, but Asos boss Nick Robertson is certain that the channel will be key to growth. He said in December he expects the channel to account for between 20% to 30% of sales within three years.
The shift is likely to have big implications for international retailing in particular, especially in emerging markets where broadband infrastructure remains rudimentary. "Whole continents will skip the PC," says Robertson.
The launch of apps and generic m-commerce sites from UK retailers shows Asos isn't alone in becoming alert to the rise of mobile devices. They need to be, even if they have no overseas interests. Online giant eBay reported mobile sales tripling to nearly $2bn (£1.22bn) in 2010, and that the UK was the fastest adopter of m-commerce. It also notched up 30 million downloads of its app in eight languages across 190 countries, and it generated 94 bids per minute.
International is a huge opportunity
The UK accounts for only 3% of global internet traffic: a stark illustration of the scale of the overseas opportunity for the medium. Even better, international expansion via the web removes property and staff costs. Asos exemplifies the size of the prize. While its UK sales rose 25% last year, international sales rocketed 142%. The etailer's site is the third-most visited in fashion retail globally, measured by the number of average daily visitors.
Many UK retailers are on to the overseas opportunity, but often they only offer international delivery and sometimes require payments in sterling. Asos is growing through dedicated country sites, which bring benefits such as greater trust among local consumers, because of their use of local languages, and greater prominence on local search engines.
Asos launched three sites last year, including in the US, and will launch three more this year. It is working out the best way to launch in China.
While some tailoring may be necessary to sites and offers, that needn't necessarily be the case and the same fundamental range may work across countries. As Robertson points out, H&M and Inditex succeed globally with a consistent offer and the same can be done online.
Delivery is a key battleground
Convenience as well as price are the key appeals of online shopping for consumers, so delivery options are vital to success.
Free shipping and free returns are central to Asos's positioning in its key markets and the etailer is close to considering them as a marketing expense. Last year they depressed the overall gross margin, as anticipated, by 300 basis points.
Free returns also mean a typically higher rate of returns than normal - about 30% across Asos in its entirety. However, such services encourage new custom and improve conversion rates.
A related issue is the speed of delivery. Asos's busiest time for orders is 9pm. The etailer is close to being able to offer next-day delivery of products ordered then and its next ambition is to provide next-day deliveries on orders placed at midnight.
Instant gratification is one of the appeals of traditional shops and is increasingly important online. Other retailers are also prioritising delivery speed. Oasis-owner Aurora and catalogue chain Argos offer 90-minute delivery in selected locations in partnership with delivery firm Shutl.
You can sell more to your customers by engaging them more
Asos exists to sell and views an engaging retail environment as a central plank in its commercial strategy. In keeping with that, it is on a journey "from UK shop to global fashion destination", a shift "from a transactional commoditised relationship to a community of committed fans".
The launch of services such as Asos Marketplace, enabling boutiques and independent designers to show and sell their products, and Fashion Finder, showing fashions that Asos may not sell but are likely to interest its customers, are both examples of how the company seeks to engage consumers and so drive traffic. Search "Asos hauls" onYouTube to see how genuinely engaged the retailer's customers are.
Amazon was an early adopter of such tactics through initiatives such as customer book reviews. But Asos's approach could be replicated by retailers in all categories that attract passionate consumers from food to gardening. The key is to enable and facilitate real engagement rather than make thinly veiled sales pitches.
Is your investment keeping up with shopper needs and expectations?
Nobody needs reminding of the speed at which technology is reshaping commerce and the wider world and, especially during such tough trading conditions, there is a temptation to shelve or delay investment.
Sometimes there is no choice, but if the pace of technological change in a business fails to keep up pace, the disadvantages are obvious. Asos's technology costs increased by 72% last year as it invested in a new buying and merchandising system alongside ventures such as its international websites.
Similarly, Asos booked a £12.9m exceptional charge on the move to a centralised warehouse. Such expenses can raise eyebrows in the City, but the move will sustain projected growth as Asos targets sales of £1bn by 2015.
Don't think like a retailer
Asos doesn't necessarily think of itself only as a retailer. Its approach has been altogether more open-minded, an attitude that has led to some of its best ideas. Robertson says: "Asos is as much a shop as it is a publisher as it is a technical enabler of fashion." With a Facebook store, its Fashion Finder site and a magazine under its belt, its innovative thinking is a reminder of why it's good to shake free of traditional models occasionally.
Ecommerce consultant Jevern Partridge, who has worked for Boots and the Arcadia Group, says the approach has worked well. "Something like Fashion Finder isn't traditional retail and it doesn't promote itself in traditional ways. Selling clothes is the core of the business, but it hasn't let itself become constrained by being a retailer." This fluidity has allowed Asos to lead the way in fashion etailing.
Harness the power of social networking
Social networking is something retailers don't always get right, but Asos has stood out in several ways. Firstly, it is open to new ideas, such as social shopping service Groupon and opening the first Facebook shop in the UK. Upfront investment for these schemes isn't high, and it means Asos can learn its own lessons about what works. "It's a smart approach," says Michael Ross, director of ecommerce consultancy eCommera. "No one really understands social media, so you can think about it for months or you can get out there and try stuff."
Secondly, Asos trusts its staff. Some blog for the company and their Twitter accounts use the Asos brand name, allowing them to become ambassadors and spread the word even further.
Thirdly, the company moves quickly. It has always been an early adopter. Its status as an online pioneer and ability to harness social media has helped it avoid paying for advertising.
It's still possible to be a retail entrepreneur
Even in a world where Tesco sells everything, Asos has shown it is still possible to come up with new ideas and succeed in a crowded market. For many, the secret of its success comes down to Robertson. The great-grandson of the founder of Austin Reed has steered the Asos ship from its beginnings as celebrity copycat site As Seen On Screen to the global brand it is today, and he's surrounded himself with a talented management team.
Ross refers to Robertson as "the British Bezos" and says: "Nick is a rare individual. Leadership in these businesses is extremely important, and people often underestimate just how rare the skills are to pull this sort of stuff off." Sustaining the entrepreneurial culture as a business grows is difficult but Robertson has managed it. Asos has become known for its ability to evolve and constantly reinvent itself.
Keep increasing product ranges
There are two things etailers can do to make sure they keep growing beyond a certain point - go international, and increase the number of products sold. Asos has done both.
Since it started Asos has steadily increased the number of brands sold on its site, with its womenswear section alone now offering hundreds of names. In 2005 it launched a beauty section that sells brands like Nars and St Tropez and has steadily increased the lines it makes, with Asos White and Asos Black both appearing.
The company also keeps its site fresh, introducing between 1,500 to 2,000 products every week. Not only does the growth in brands keep current customers interested and offer them more things to buy, but each new brand brings in new customers as well: "It both widens your customer acquisition net and increases your frequency of purchase," says Ross.
Usability
There are plenty of barriers to shopping online - from the laborious entry of card details to being unable to touch and feel products before buying, there are many things that can put customers off.
Asos is a case study of how to avoid that with the entire customer journey carefully designed. Once its editorial and visual content has pulled customers in, the process is made as easy as possible. During the checkout process, there's very little content on page, making sure users focus solely on paying for the goods in their basket, and thepayment journey is very clear and easy to follow.
Clear, easy-to-follow tabs greet the user on the site's homepage, and although the product base is huge, it's organised in easy-to-manage categories. The product pages themselves feature videos of the clothes on models, making it easier to see how they move and fit.