An Argos store is not an obvious place for a gig, but nonetheless the retailer is putting on events with acts including Katy B and Eliza Doolittle.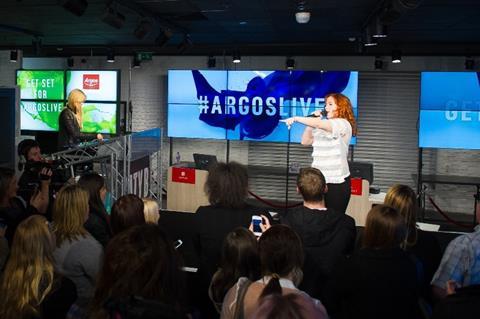 The retailer is on a mission to energise the brand and part of its marketing strategy is 'Argos Live' gigs that are targeting a younger crowd.
Argos streamed its latest gig on October 22, which featured Katy B, at its Old Street store via a Google+ Hangout video conferencing session.
The retailer claims it was broadcast to "millions" through a YouTube masthead and the company's Google+ page.
The Google+ Hangout was hosted by Georgia LA and guests and viewers were invited to share their thoughts on emerging British talent and the technologies impacting the music scene.
Other people taking part in the session included SB.TV label manager Luke O'Connor, Spotify label relations executive Drew Lam and YouTube star George Barnett.
Barnett is a regular on online youth broadcast platform SB.TV, which began life as a YouTube channel run by Londoner Jamal Edwards, who was just a teenager when he set it up.
Argos has traditionally focused on families with its marketing but it is now targeting a younger audience.
The Argos Live initiative is just the tip of the iceberg and is part of the business's biggest marketing campaign, which has dropped its alien characters for a fast-paced TV ad featuring products such as Beats headphones.
Argos marketing director Stephen Vowles said the live-streamed gig was "the first event of this kind streamed through the YouTube masthead [and] is another example of how we are continually innovating and repositioning our business as a digital retail leader".
Gigs in stores are certainly a bold move for a business such as Argos. While it makes sense for music retailer HMV, it is harder to see how music fans will embrace a company like Argos getting in on the act.
However, Argos should be commended for its clever use of combining an in-store event with a live stream and adding interactivity through social media.