Convenience is currently the watchword in customer experience trends. We pick out a few of the best examples from around the world.
Automating invisible processes
The automation of back-end processes is where some of the most interesting developments in retail innovation are being driven, according to Simon Hathaway, president and global chief retail officer at marketing agency Cheil Worldwide.
"The buzz phrase is robotic process automisation. It is starting to be adopted by some retailers as it helps to both take out cost and improve efficiency"

Simon Hathaway, Cheil
"The buzz phrase is robotic process automisation (RPA)," he says."It is starting to be adopted by some retailers as it helps to both take out cost and improve efficiency."
Expect to see RPA used to power and link a variety of currently standalone processes – such as digital customer services, supply chain, and returns and refunds – to improve personalisation and efficiency.
Outdoor clothing brand The North Face is leading the way with its launch of a new interactive online recommendation engine. Using natural conversation so customers feel like they are talking to another person, the tool helps shoppers to "discover and refine" product selections by asking questions about location, temperature and gender.
The service was launched in the US in December after a month-long trial. It is powered by IBM's artificial intelligence software Watson and an intuitive dialogue-based recommendation engine from digital commerce company Fluid XPS.
Personalising by filtering out the "mundane"
Automation is also being used to keep customers in the moment and elevate their shopping experience, says Forrester senior analyst Tony Costa, who specialises in customer experience.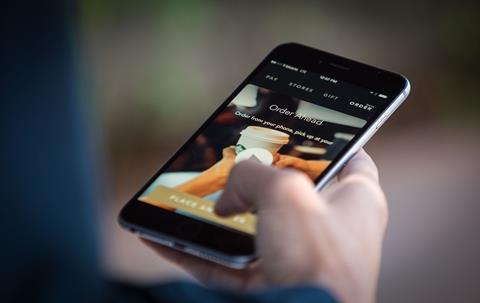 For him, great examples of automating the "mundane" aspects of a transaction include Westfield London's use of RFID technology in its car park. The tech acts as a smart card which is linked to shoppers' direct debit accounts so they need neither to take a ticket when they park, nor pay at a machine before they leave.
He also points to low-cost airline JetBlue's automated check-in service and Starbucks' Order and Pay app which allows customers to pre-order goods and choose their nearest branch to collect from, enabling them to skip the queue.
Contextual shopping
Anticipating what customers want at a specific time and place is helping to create more context-driven services.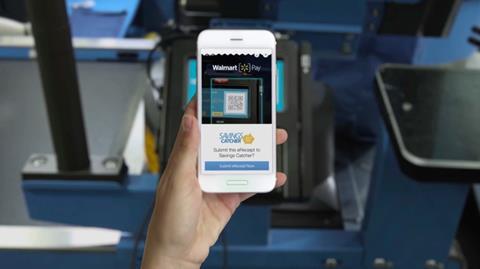 Costa highlights Walmart's latest iPhone app, which includes a store mode with features such as in-store product searches, an interactive map and promotional information that is available when entering a physical shop.
Convenience store chain 7-Eleven uses its app to offer promotions based on time of day, weather and location.
Mobile phone cradles on shopping trolleys
It may seem 'lo-tech' alongside more technologically driven innovation but pushing a trolley while holding a mobile phone is hard work.
Introduced by South Korean supermarket chain E-Mart, the cradle aims to make it easier for customers to use its in-shop app while stocking up on groceries.
Using visual light communication to create an in-store navigation system, the app directs shoppers to promotion hotspots. Cheil's Hathaway predicts these handy phone docks will appear closer to home later this year.
Immersive experiences
With Microsoft's new Fifth Avenue store featuring walls made entirely of huge gaming screens and virtual racetracks, it is clear in-store technology is beginning to evolve.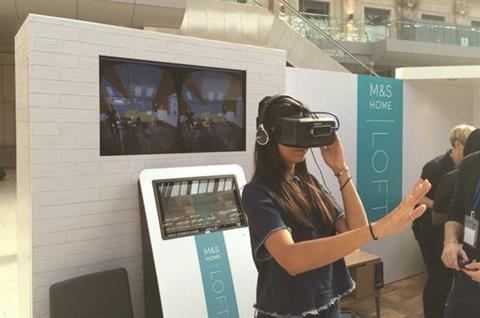 Ray-Ban, also in New York, has created a "digital studio space" with iPads that allow customers to personalise their sunglasses.
Marks & Spencer launched a series of pop-ups using virtual reality headsets – powered by Oculus Rift and Leap Motion – to showcase its Lofts homeware range.
Both artificial intelligence and virtual reality will increasingly be used to 'wow' customers.
Snapchat marketing campaigns
No longer the social media upstart, Snapchat is garnering plenty of attention as did Burberry when it launched its first 24-hour fashion campaign via the app.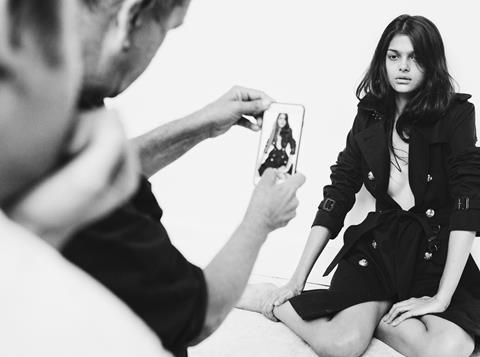 Shot by renowned photographer Mario Testino at the same time as its spring/summer 2016 campaign, Burberry offered a sneak preview at its collection before disappearing into the ether.
The timed nature of the campaign creates a sense of urgency and exclusivity, says Hathaway. "The customer has to engage with it immediately because it disappears."
Disruptive apps
Hailed as the world's first banking app to combine customer data and nudge theory, HSBC announced a trial of its Nudge app at the start of the year.
Nudge aims to improve customer satisfaction through gentle "nudges", while nudge theory argues that positive or indirect suggestions can influence a person's decision-making.
Using software to evaluate customers' current accounts, the app can identify trends and spending habits to send regular, targeted digital "nudges" to help people positively change their spending habits.
HSBC says it wants to encourage – rather than nag – people to be more prudent with their money.
Empowering customers
Allowing access to parts of a business that were previously hidden helps to reduce customer anxiety while offering a very individual experience.
"Transparency reduces customer anxiety"

Tony Costa, Forrester
Costa points to hotel chain Hilton, which allows members of its rewards scheme HHonors to book a specific room online and Domino's Pizza tracker app, which shows the progress of a delivery.
"This transparency reduces customer anxiety and once they have this information they can act on it," says Costa.