Volvo is piloting a service that allows online orders to be delivered to cars. Katie Deighton speaks to Volvo chief information officer Klas Bendrik about the idea.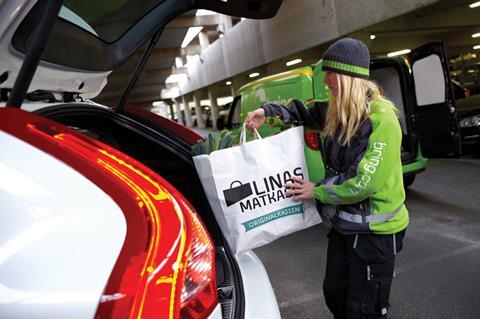 Volvo unveiled its 'Roam Delivery' service at the Mobile World Conference in Barcelona last week. The service will enable car owners to have online deliveries left in their vehicles or have returns collected from them.
Using an app on a smartphone or tablet, drivers will be able to track when their vehicle is opened and locked with digital keys which courier staff will be able to use for a short period of time. Volvo says the system will mean products can be delivered to individuals, rather than home or work addresses.
It sounds futuristic, but the technology is already set up in Volvo cars. Volvo's chief information officer Klas Bendrik says: "The technology has been leveraged from Volvo's On-Call app. This is has already been rolled out commercially in new cars and lets drivers know where the car is parked, the car's temperature and fuel levels. It can also flash the car's lights and sound the horn."
He says Volvo came up with the idea after it held a workshop looking at how its app could be improved upon. "After we held an innovation workshop, we started to talk about the way we think about the key. The natural progression was to open and lock the car with the technology we have," Bendrik says.
The digital key works through the app, with a button within the app remotely locking or unlocking the car. The system normally only allows the driver's own phone to unlock the car, but a courier's device can be given temporary access.
"Car deliveries will present greater opportunities for the customer"

Klas Bendrik, Volvo
With the On-Call system already in place, Volvo will be ready to launch the system once it has been developed further with couriers and retailers. "There are a number of discussions ongoing so far, but I can't reveal any names yet," Bendrick says.
It's clear that Roam Delivery may have an effect on much more than just the car industry. "Car deliveries will present greater opportunities for the customer. Retailers will be able to give the customer one additional option that their competitors may not have. It's a case of added simplicity."
Volvo also believes the technology could save the courier industry money by eradicating missed first-time deliveries, which it says cost €1bn (£820m) a year. "This will benefit the environment as well, as fewer journeys will be made," Bendrik maintains.
Bendrik is also confident that car-owners should not be worried about security. He says the fact that Volvo has been using the On-Call app for 13 years means there shouldn't be any surprises when the digital key system is rolled out. Multiple security checks will also be in place before a courier delivers an item. "Security is tremendously important for any car manufacturer," Benrick says.
"When a customer wants an order delivered to their car, they will organise a time and place. And before the car is unlocked, the owner receives a message to tell them their item is about to be delivered. It's an extra check for added security."
Once the delivery has been made, the courier no longer has access to the key, and no-one else can use it to unlock the car.
Bendrick says the system received an enthusiastic reception at the Mobile World Congress, and has generated a lot of interest from outside the automobile industry. "It's interesting what you can do when a car and customer are connected," he says. "It creates an ecosystem with the potential to impact many different sectors."
He says this is just one service that has been developed from the On-Call system, so more interesting ideas are likely to come from the car industry.
Volvo trials service that delivers online orders to shoppers' cars
1

2

Currently reading

Analysis: Could Volvo's delivery service be the future of online shopping?