Warm weather dented John Lewis' sales last week while the more clement conditions boosted performance at sister retailer Waitrose.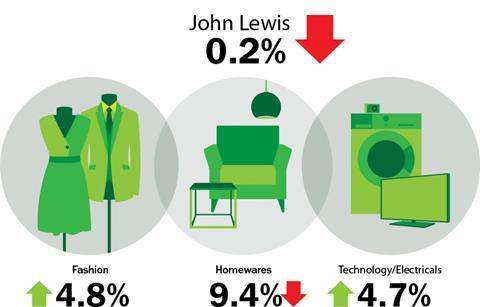 John Lewis sales slipped 0.2% to £62.14m last week as the warm weather over the bank holiday resulted it "quieter" footfall at the department store retailer.
John Lewis said, however, there were "some encouraging signs at the end of the week as the weather cooled, also helped by price matching a competitor's promotion".
Fashion sales "basked in the warm weather", growing by 4.8% with children's clothing and shoes leading the way. Haberdashery continued to see the benefits of the Great British Sewing Bee effect.
"Interest in branded fashions spiked at the weekend as our Never Knowingly Undersold commitment came into its own when we matched a competitor's promotion," said John Lewis' director, retail operations development Simon Russell.
Electricals sales were up "an impressive" 4.7% despite being up against tough comparables. In the same week last year it was the peak of the digital switchover and the retailer also recorded "very high tablet sales last year".
Large and small electrical sales did well and "not surprisingly", the warm weather drove a 200% increase in cooling products, according to Russell.
Home sales slumped 9.4% despite outdoor furniture and barbecues doing well.
Shops in the cooler north performed the best, including Edinburgh, Newcastle and Aberdeen.
Web sales grew 8.2%.
Russell added: "This week has got off to a much stronger start and we are well placed for the week ahead."
Sales at sister retailer Waitrose surged 12.8% driven by the warmer bank holiday weather, "which helped to create a summer spirit". Ice cream sales were up 31% while barbecue meats were up 48%.
Waitrose.com sales momentum "continues to build well" with the number of orders growing by 41%, according to Waitrose retail director Rob Collins.
News of Sir Alex Ferguson's retirement led to newspaper sales surging by 81%.