John Lewis sales jumped 6.6% to £67.93m last week driven by the mixed weather and its Design Weekend promotion.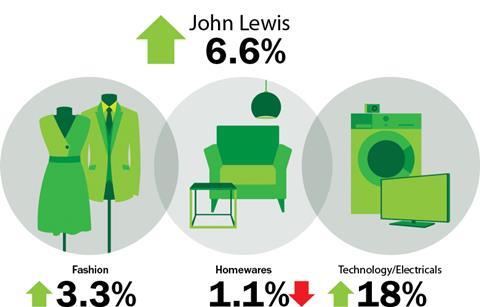 John Lewis said its stores were able to capitalise on the mixed weather on Saturday in particular, and that the Design Weekend promotion, which offered shoppers the chance to notch up double points on their partnership card purchases, drove sales.
David Barford, director of selling, London and South at John Lewis, called the performance a "solid end to the first trading period of the all-important second trading half".
Electricals and home technology "continued to excel" with sales up 18% after a "cracking set of results across the board", according to Barford. Televisions were up 37.7% while sales of technology increased 27.3%.
Fashion sales increased 3.3%, driven by childrenswear and back-to-school.
Home had a "subdued" week, with sales slipping 1.1%, despite good performances from lighting and furniture.
Barford added: "With the conclusion of the school holidays in England and Wales, customers' minds will be turning to autumn. This weekend will see the final push for back-to-school and newness will continue to be the order of the day. Our shops are looking strong and Partners are ready to convert footfall into sales."
At sister retailer Waitrose sales were up 8% to £113.17m as shoppers entertained over the bank holiday weekend.
Sales of Champagne jumped 14% and, despite the variable weather, barbecue meat sales sizzled by 25%.
Waitrose supply chain director David Jones said The Great British Bake Off effect "continued to whip shoppers into a frenzy" with sales of home baking ingredients up by 23%.
Waitrose.com "had another strong week" with orders up 36%.