Department store John Lewis recorded a 7.2% sales increase on 2012 driven by markdowns, price matching and online sales last week.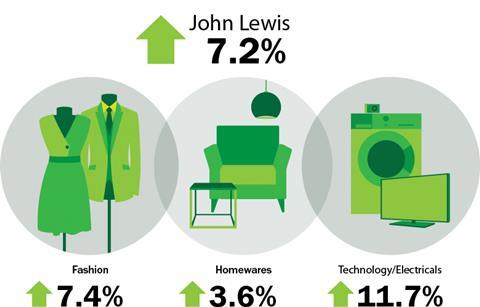 John Lewis reported its highest ever weekly sterling income in the first half of the year, taking £81.6m.
Fashion sales rose 7.4% driven by the start of the Clearance Sale, with women's accessories and beauty up 12.3% and handbags up 17.8%. Price matching its rivals also boosted beauty sales, which were up 16.4%.
Online sales rose 20.7% with click-and-collect orders up 46% year on year.
Sales in John Lewis' electricals and home technology department rose 11.7% driven by large electricals and audio. Electricals items in the Clearance Sale were up 48%.
The retailer's home department delivered a sales increase of 3.6%, with furniture enjoying a 17.6% uplift, driven by increases across reduced, promoted and full price lines.
John Lewis merchandising operations director Jon Williams said: "Across the shops, five branches delivered double-digit increases in the first days of Clearance. Stratford was at the top with an 18% rise and Norwich, Tamworth, Leicester and Milton Keynes were not far behind."
Newcastle, High Wycombe and Peterborough were the poorest performing stores.
Sister grocer Waitrose enjoyed a strong week with sales up 14.5% to £121m. Its online sales powered ahead of last year, up 55.8%, while sales in its convenience stores rose 28.7%.
Waitrose retail director Rob Collins said shoppers shrugged off the "dull weather" to take advantage of wine promotions and strawberries, which were up 47% ahead of Wimbledon.
He said: "We saw posh picnic and dining trends across our ranges, with top performers including bottles of champagne and other sparkling wines, with sales 54 per cent and 35 per cent higher respectively.
"Customers also snapped up a promotion on our English strawberries, with sales increasing by 47% compared to last year. And we sold 59% more double cream and 78% more single cream to go with them."
He added: "Royal Ascot and Wimbledon have led to distinctly British sales patterns in other areas too - we sold 66% more scones and 48% more clotted cream."