John Lewis sales fell again last week, as the hot weather continued to drive customers away from the retailer's department stores. But Waitrose enjoyed bumper sales.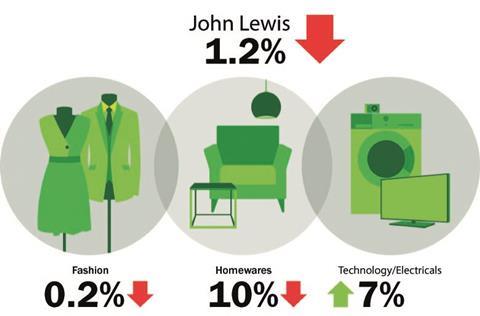 John Lewis sales dropped 1.2% to £63m in the week to July 20. Although sales improved from the previous week when they slumped 8.7% John Lewis said that July had been "challenging" compared with last year. Across the same week last year sales at John Lewis jumped 9.8%.
John Lewis managing director Andy Street said: "Taking the four weeks of July together, trade has certainly been challenging. But the indications are that the heat wave is nearing a conclusion. Therefore this, the last week of the half, does give us the opportunity to make up some lost ground."
But he said that the retailer is set to contend with tough comparables going forward as today is the anniversary of the 2012 London Olympic Games when the retailer experienced good merchandise sales.
Despite the weather last week, John Lewis' online business fared better than stores and sales increased 9% driven by electricals and womenswear, as customers took advantage of 'hot weather' promotions.
In stores, sales of cooling products in the electricals category doubled its previous record week, while cameras continued to sell well. But outdoor furniture was the top performer
Street added: "Despite July's challenges our merchandising teams have done an excellent job in managing stocks through unpredictable conditions. Therefore we will go into the new half ready to welcome new products, and as ever customers will be excited by just what we will be delivering in the second half."
Meanwhile, John Lewis' sister grocer Waitrose said year-on-year sales excluding petrol surged 14.3% last week to £120m as the hot weather drove incremental growth.
Waitrose said many of its ranges enjoyed their biggest ever week of sales, driven by its range of ice creams, barbeque meats, its sushi selections and 'Food to go' salads.
Sparkling wine sales surged 73% against last year, while ready-made alcoholic drinks, such as cans of gin and tonic soared 106%.
Waitrose said customers are buying ice lollies to cool down in the heat. It recorded rocketing sales of its juice lollies, which were up 353%. Meanwhile, fruit juice sales jumped 35%.
Seafood was also a good performer with sales up 26%, Waitrose revealed.
And as customers make more use of their garden, outdoor plant sales have increased at more than four times their usual rate.