Consumer confidence has experienced its biggest fall so far this year, with the hitherto continuous rise in confidence halting at the end of the summer.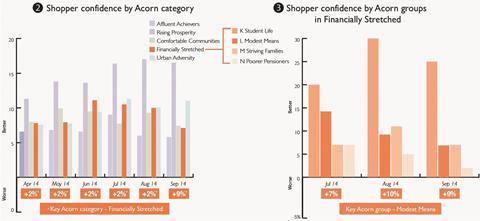 According to data from retail location firm CACI, following nine consecutive months of increasing confidence, the headline rate reached a new record high of +10.3% in July.
But, after a prolonged period of growing consumer confidence, the headline rate dropped in August to +9.7% and more rapidly to +8.6% in September. However, confidence is still 2 percentage points higher than this time last year.
Particular brands and areas across the UK having been hit, the data suggests brands that are likely to be impacted by this drop in confidence include Superdrug, Greggs, Toys R Us and Card Factory.
CACI believes the main reason for the decline is likely to be concerns arising from uncertainty relating to the Scottish Referendum and increasing expectations of a rise in interest rates after the Bank of England voted in favour of increasing interest rates in both August and September.
CACI says the consumers who have lost confidence over the last year include the financially stretched – which contains a relatively low affluence mix of traditional British areas, and affluent achievers – at the top end of the income spectrum.
CACI's data contradicts other data, such as GfK's Consumer Confidence Index that found consumer confidence increased three points in August.
Part of the data used came from the British Population Survey.