Andrew Higginson has been hired as the new Morrisons chairman and at the same time he has stepped down as Poundland chairman.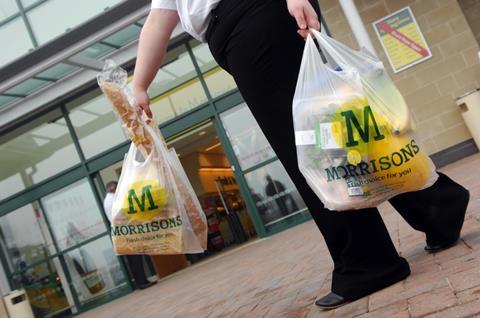 Retail Week profiled Higginson when he was appointed to Poundland in 2012.
The Tesco executive and Springsteen fan won't be dancing in the dark as he takes up his two new challenges.
Bruce Springsteen fan Andrew Higginson is used to being the boss after heading retail services at Tesco. But as the admired Tesco executive prepares to step down from the grocery giant, he is readying himself for a different challenge as he takes up non-executive chairmanships at N Brown and Poundland.
Over the past fortnight Lancashire-born Higginson has taken up both roles, which he will start after leaving Cheshunt in September.
After 15 years at the top grocer where, with former chief executive Sir Terry Leahy, he helped to transform it into the third biggest retailer in the world, the two new roles are quite a departure for him.
Yet Higginson seems born to run N Brown and Poundland. His fashion experience from Laura Ashley will help him at N Brown, while his international experience at Tesco will be a benefit as Poundland pursues European expansion.
The two positions also enable Higginson to fulfil his goal of having chairmanships at both a Plc and a private company.
"I like working," he says. "I'm 55, so it's not the end of the road for me yet. I wanted to work but I just wanted a different challenge. It's hard to replicate the experience I have already had, so I thought being involved in new, different businesses and going plural would provide that test for me."
He says he was attracted to the growth trajectories of the two businesses.
"N Brown is a business I have admired from afar. It is a nice combination of having everything online, while it begins to trial new projects, such as opening a few stores. What I love is that it has a niche customer," he explains.
It was not just at the Tesco powerhouse that Higginson earned his stripes – he has done his fair share at struggling retailers too. As a 32-year-old, Higginson led a life-saving financial restructuring of Laura Ashley when the banks had withdrawn all support. Higginson says it was a proud moment and that the naivety of youth gave him the courage to believe in the turnaround. "It really was life or death," he says.
The popular and highly regarded Higginson says he has worked with and managed many of today's brightest retailers in his 21-year career, including Carpetright's new chief executive, Darren Shapland. "It gives you great pride that you have nurtured these people who have gone on to have a great career," he says.
"I always promote and hire good people to ensure I have a really strong team. You need a team that plays to your own strengths and weaknesses.
Alongside the two chairmanships, Higginson is also on the board of Woolworths in South Africa and is a senior independent non-executive director of BSkyB, a role which he says recently became even more interesting as Rupert Murdoch's attempted bid for the media giant was halted by the Government.
The busy retailer says that despite retiring from executive life, he is not ready to sink into an armchair just yet. While he does not plan to take on any more roles, he still expects to work a five-day week and has just completed a gruelling 1,000-mile cycle ride from Land's End to John O'Groats.
He will also no doubt be kept busy by his music after seeing Springsteen perform three times within four days lately, as the star toured Sunderland, Manchester and the Isle of Wight.
Higginson also had tickets for the sell-out Hyde Park concert last weekend.
It is clear that despite Higginson's decision to step down from an executive role, no one can put out his fire for retail.
Career history
2008-present Chief executive of retail services, Tesco
1997 to 2008 Group finance director, Tesco
1994 to 1997 Finance director, Burton Group
1990 to 1994 Finance director, Laura Ashley
Biggest regret…
Turning down up-and-coming band The Police when he was a young entertainments officer at University in Birmingham, due to their "extortionate" £400 fee.