The online retailer has attracted big name investors, grown fast and extended its areas of interest.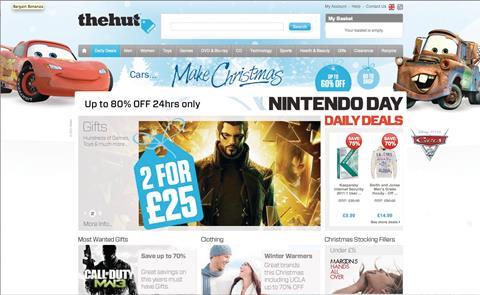 Online retailer The Hut has enjoyed strong growth in recent years, as it attracted big name investors such as Sir Stuart Rose and snapped up businesses as it expanded.
However, the etailer has suffered setbacks recently, including stalling a planned flotation and the news last week that the VAT loophole that it and others have been exploiting in the Channel Islands is set to close.
It is understood The Hut will keep its Guernsey base despite the Government's decision to remove Low Value Consignment Relief in April, which allows goods sold at £15 and below to be VAT free from the Channel Islands into the UK.
This allows The Hut and others to undercut rivals that do not have a base on the Channel Islands. Now the loophole's closure looms, observers will be interested to see what kind of effect it has on etailers such as The Hut, however.
The firm is in good hands though, with a pool of investors that reads like a who's who of retail. Alongside Rose is former Tesco boss Sir Terry Leahy, former Tesco clothing executive Terry Green, and Angus Monro, who previously ran Matalan and is now The Hut's chairman.
It is the etailer's impressive growth that has attracted the highly experienced investors. It has grown from a £5m turnover company in 2005 to one expected to generate £160m of revenue in 2011. The retailer's profit margin doubled to 17.2% from 2009 to 2010, although at its pre-tax profit level it remains negative, reporting a £9m loss for the 2010 financial year due to the number of acquisitions it made.
Originally an online entertainment products retailer on behalf of companies such as Asda and Tesco, The Hut evolved to become an etailer itself. It offers a much larger selection of products, such as health and beauty, gifts, sports goods and supplements across six categories.
The increase in turnover has been driven by the expansion into new product categories, achieved through a number of acquisitions over the past few years. The Hut bought gift website IWantOneOfThose.com in 2010, followed by online health and beauty retailer Lookfantastic Group, and male grooming site Mankind.
This year, it focused further on its health and beauty offering with the acquisition of HQ Hair and MyProtein, an online supplement store, in a deal thought to be worth £58m.
Despite its expansion, plans to float the firm were put on hold due to the difficult macro-economic climate. As a result of the decision to put the float on ice, its financial director Paul Meehan exited – it is thought Meehan had ambitions to be the financial head of a public company.
But the market mood has not stopped the firm's ambitions.
It plans further online acquisitions, following a £5m cash injection last month.
Although The Hut is believed to be committed to an IPO, turbulent market conditions mean a flotations may be a little way off.
Hit the hut
Chief executive Matthew Moulding
Number of employees 264
2010 turnover £84.1m
2010 loss before tax £9m
Websites include Zavvi.com, MyBag.com, Allsole.com, MyLabel.co.uk, HQhair.com, Washbag.com, MyProtein.com
The Hut is just one of the 250 company profiles included in Retail Week Knowledge Bank. Click here to view the full company profile of The Hut.