Laura Ashley has had a turbulent history since its launch in the 1960s by the eponymous fabric designer and her husband.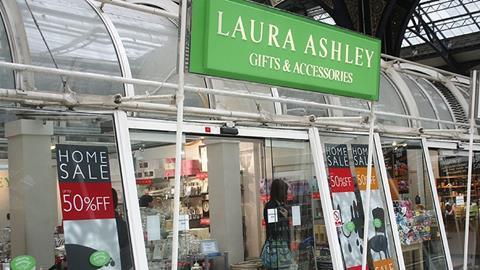 It became the darling of the middle classes in the 1960s with its floral prints, only to decline in the 1990s when it was hit by the recession and management problems.
Today, however, the international furniture and fashion retailer is on the up again under the leadership of chief executive Lilian Tan.
She has focused more on the growing homewares offer, while realigning the property portfolio and innovating with new store formats.
She has also steered the online side of the business; in 2010/11, home shopping accounted for 11% of overall sales.
The strategy has improved profits, which surged 28% to £7.3m in the 26 weeks to July 30. While total UK sales dropped 1.1% to £120.1m as the retailer continued to close unprofitable stores – it shuttered 16 last year – like-for-likes grew 3.5%.
Laura Ashley's floral-inspired clothing was a hit in the 1960s, when a small chain of shops evolved into some of the most popular stores in London, including its Fulham Road shop and one at South Kensington tube station.
The retailer remained popular in the 1970s but dipped after the unexpected and tragic death of Laura Ashley herself in 1985. The retailer spent most of the 1990s fighting falling sales.
However, the acquisition of the business in 1998 by Malayan United Industries would prove decisive. Under its ownership, and Tan's leadership from 2004, the retailer has bounced back.
In the year to January 29, Laura Ashley posted record earnings, with group pre-tax profit excluding exceptionals up 91% to £19.3m on sales 6.2% ahead to £285m.
While restoring profitability by keeping a close eye on costs, Tan has not let the business remain stagnant. She opened a Laura Ashley Gift & Accessories store in London's Liverpool Street station last year as the retailer tries out new formats.
She has also told Retail Week (April 9, 2010) that Laura Ashley is mulling the opening of kids' standalone stores that would sell fashion and furniture, as well as fashion-only shops.
Laura Ashley, which makes 20% of its sales through fashion, closed clothing-only stores seven years ago.
However, Tan sees scope to open apparel stores in fashion-centric locations where there is not the space for the full offer.
At present, the 225-store retailer makes 31% of its sales through furniture, 26% through home accessories and 23% through decorative products.
It has shops in Belgium, Bulgaria, Dubai and Australia as well as the UK.
Blossoming again
Chief executive Lilian Tan
Chairman Tan Sri Dr Khoo Kay Peng
Product breakdown Furniture 31%, home accessories 26%, decorative 23%, fashion 20%
Store numbers 225
Group pre-tax profit excluding exceptionals Up 91% to £19.3m
Sales Up 6.2% to £285m