B&M is the chain more than any other that our contacts have remarked that they have begun to notice, but about which they know very little.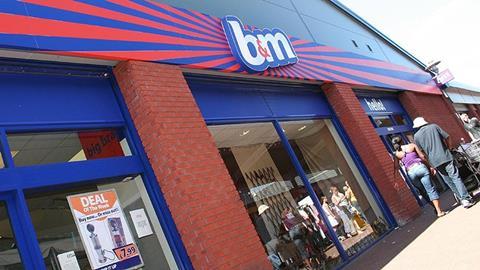 This is not surprising, because B&M has grown faster than any other Top 100 retailer, sales rising more than five fold between 2006 and 2009 from £78m to £427m, with annual growth averaging over 60% a year. Indeed, £600m-plus is projected for 2010. Another reason for its low visibility is that B&M has risen to prominence to date outside the southeast, but this is about to change having recently opened a store in Hemel Hempstead.
A mixed goods discounter, historically B&M's product breakdown was 70% food and 30% non-food, but the split has become increasingly skewed towards non-food and the product range now includes health and beauty, toys, household textiles, electricals, homewares, drinks, confectionery and clothing.
Formed in 1976, by the late-1990s the family-run, variety store retailer was substantially loss-making. UBS Capital became involved, introducing new management that remained in charge until 2004 when B&M was sold to Simon and Bobby Arora, under whose stewardship it has boomed.
In 2006 the Aroras acquired a stake in the doomed Glyn Webb DIY business, converting 12 of its shops to a new, larger B&M Homestore format. When acquired by the Aroras, B&M had some 20 stores; in mid-2010 it has about 200, varying from below 5,000 to more than 25,000 sq ft.
Moreover, as highlighted in Retail Week Knowledge Bank's detailed profile, sales growth has not been at the expense of profitability. Indeed, the 2009 figures show B&M achieving a record 8% operating margin, unusually high for a discounter. Sales densities of £280 per sq ft may be below their peak, but are also very creditable.
For comprehensive analysis of every top 175 retailer in the UK, visit Retail Week Knowledge Bank at rwkb.retail-week.com.