The value retailer's market share is on the up.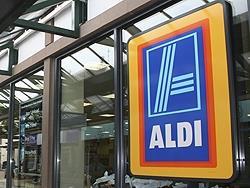 German value retailer Aldi has not had it all its own way in the UK, but in recent months has been showing signs of a return to form.
Aldi's market share increased year-on-year from 3.1% to 3.6% in the 12 weeks to February 19, according to Kantar data.
It is the biggest player in the value grocery sector, with Lidl behind with 2.6% share. Danish rival Netto last year disappeared from UK high streets altogether, after it was acquired by Asda and rebranded.
But while Aldi prospered when the credit crunch hit, with shoppers flooding its stores to snap up cheaper goods, its share soon began to plateau, leading some to conclude that its good run was just a blip.
Aldi's share dropped from 3.1% at the end of November 2009, to 2.8% by February 2010. In the year to December 31, 2010 pre-tax losses widened to £56.9m from £54.2m as it suffered impairment charges incurred through store closures.
However, Companies House information shows turnover grew 4.6% to £2.1bn in 2010 and operating profit soared to £18.7m from a loss in 2009 of £21.2m. By the end of 2010 its share had climbed back up to 3.2%.
Aldi's revenue growth is expected to have continued last year, too, as its reputation for value among shoppers, combined with stores and products more tailored to the British market, won more customers. Its share in August 2011 reached 3.6% and has been around that level ever since – a marked improvement on the year earlier, which averaged at about 3%.
The secretive grocer was founded in Germany by brothers Theo and Karl Albrecht in 1962, who stepped back from direct management in 1993. The Aldi group is split into two divisions: Aldi Nord and Aldi Sud.
The UK and Ireland falls under the latter, along with the grocer's operations in Austria, the US, Australia, Switzerland, Slovenia and Hungary. The two arms share responsibility for the 4,300 Germany stores.
The grocer's big strength is its strict focus on a limited range of own-brand products. It sells a narrow range of 1,000 product lines in its UK stores, although in its homeland of Germany it sells even fewer – its SKUs rarely exceed 600 – while internationally the average is 800.
Aldi sells the same brands across the group, and almost all lines are exclusive to it, giving the grocer enormous buying power for its 9,600 stores in Europe and 520 UK and Ireland stores.
It sells fast-moving lines in dry groceries, fresh fruit and vegetables, chilled and frozen foods, alcoholic drinks and household items Aldi, which opened its first UK stores in 1990, is headed here, rather unusually, by three country directors: Matthew Barnes, Roman Heini and Mandy Stretton.
The grocer admitted that in the first 10 years of its UK operation it failed to communicate its value message alongside its discount selling point.
However, as part of a strategy to revitalise the business it had by 2005 extended its product range from 650 to 850 lines to 1,000. It launched its premium product range, Specially Selected, contributing to a turnaround in customer perception of the grocer. It also launched a Be Light healthier range.
To accommodate the SKU expansion, stores were extended to 10,000 sq ft. Following a £100m investment programme in 2007, Aldi improved its store look, bringing it up to UK-competitor standards.
However, over recent years the UK store expansion strategy has slowed due to closures and the fact that fewer of the newbuild shops Aldi favours have come to market due to barriers in the UK planning system. Its former boss Paul Foley had laid out plans for 1,500 stores, but it presently has just 519.
While Aldi's market share growth trajectory is back on the right track, discount retailers have still failed to take a chunk of the grocery market, leaving the big four, as well as Waitrose and Co-op, as leaders of the grocery market.
But with this year shaping up to be as tough as 2011, it is clear cash-strapped consumers will continue to seek out discounts and deals on products, leaving Aldi well placed to eat up more market share.
Aldi
2010 pre-tax loss £56.9m, up from £54.2m in 2009
Turnover +4.6% to £2.1bn
Operating profit £18.7m from a loss of £21.2m in 2009
UK stores 519
UK sq ft 5,100