In the past few years a raft of formerly big names have been bought out of administration. Can these businesses be saved, or is it just delaying the inevitable?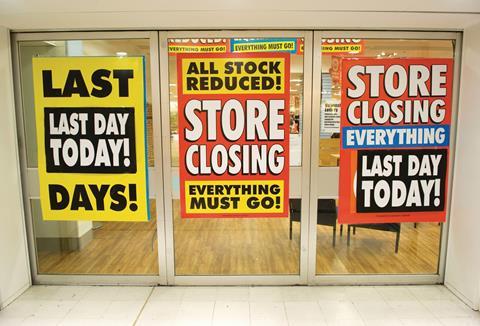 Peacocks, Jane Norman, Woolworths, Bonmarché and Blacks. The list of recent retail administrations could go on, and as the high street shake-up continues it's likely to get longer.
The word administration brings a chill to the heart of retailers, but many of the current crop of businesses in administration have been thrown a lifeline and bought out. Is it the glimmer of hope they need, or is buying a collapsed retailer simply a case of delaying the inevitable?
The early signs aren't encouraging. With the exception of Mosaic Fashions, whose brands Oasis, Warehouse, Karen Millen and Coast were sold into newly created company Aurora Fashions in 2009, it's difficult to think of many retailers that have survived the administration process in the long term.
"Administration is definitely a sign of weakness," says Gavin George, managing director at restructuring firm GA Europe. "It may be tricky to recover."
New beginnings
But there's no need to write any eulogies just yet – there is hope. It won't be an easy journey, but administration doesn't have to mean the end of a business.
With so many more retailers entering the process than previously, part of the outlook might even come down to a simple numbers game – if more are entering administration, the odds are that more are likely to come out.
"As long as brands have got a reason for being, there's a possibility they can be resurrected. It's about reinvention," says Sarah Wilson, director of consulting operations at consultancy Egremont Group. Where the new defunct Focus DIY went wrong, she says, was failing to re-energise the business model. "At each turn there was a refinancing deal on the horizon. They never really faced up to the core problems, which was that the business model was wrong. Financial support is not the only answer. Unless you are reinvesting, you're just delaying the inevitable."
The years leading up to the credit crunch are in many ways to blame for the influx of administrations since the financial crash. Too many retailers got into too much debt, making it impossible to cope once the value of property fell and consumer spending dropped. As Christine Elliott, chief executive of the Institute for Turnaround, says: "When the market was nice and fluffy retailers were doing highly leveraged deals, and I don't think you can turn around now and criticise them. Everybody was doing it and it may well have been the best thing to do at the time."
What's crucial, then, is that retailers handed a lifeline use it not just as an opportunity to sort the balance sheet out, but as an opportunity to give the whole business model a spring clean. "The key is to think about whether the business has a reason to exist," says George.
Failure can be caused by management who don't cut deep enough, says Lee Manning, who has run a number of retail administrations at Deloitte. "It's often to do with a glass half full approach by management," he says. "They tend to hang on to too much and not cut enough or close enough stores." But he adds it's easy to look back with the benefit of hindsight – the process is always going to be a difficult one to judge when you're in the thick of it.
While each business has its own set of challenges, a certain set of circumstances have created similar problems for the retailers currently working through administration. The UK property market is notoriously inflexible, and an oversized property footprint is at the core of many retailers' troubles.
Wilson says: "There are unique challenges in each business, but it's often because you have got a portfolio of shops that are very difficult to make money out of. A lot of retailers find themselves with redundant shop space that's costing them a fortune." High store overheads and the "antiquated" system of enormous rent bills every quarter has made things more difficult than they should be, Wilson says. "Mary Portas advocated a radical overhaul of the system and that's what it needs."
If a retailer doesn't have a healthy balance sheet, there's no room for manoeuvre once things get tight on the property front. Plus, it's one factor that makes further upheaval on the high street likely.
"I think we're just at the start of this," says George. "There's probably 10% to 15% to come out of the high street still. There's a long way to go."
Elliott agrees retail hasn't seen the last of its troubles just yet. "There's still a huge number of zombie businesses that haven't been made viable and are in limbo, where they may stay unless there's a change in the economy that resolves the situation."
A compelling case
With more administrations likely, what can retailers in this position do to ensure their survival? It's no mean feat, and few have managed it, but experts insist there's hope. "What you have to look at is not what you may have been but what you are now," says Elliott. "Is there a viable proposition and is there a compelling case for this business to exist?"
The leadership skills needed for a business in distress are often different to those needed when things are going well. "In many ways the skills involved are completely different, and management need to recognise that," says George. For a start, the various stakeholders involved – such as employees, landlords and suppliers – need careful management and engagement, with each group having a different agenda.
In addition, what gets communicated and to who is crucial. And having enough cash to trade becomes of paramount importance. "In normal trading, having enough cash to trade is not as vital as when you are right up against the line," says George.
Elliott adds the crucial factor for success will be finding a clear proposition that makes it clear how you're different to your competitors. Beyond this, the right management team and a realistic business plan will be needed, plus, management must capable of delivering on the new plan. Also crucial is the need to stay close to customers.
"Retailers that don't have a relationship with their customers are putting themselves at risk," Elliott says.
No only that, but any retailer that wants a long term future must think in a multichannel way – the shopping experience must evolve as shopping habits do. The web and mobile commerce is a normal part of business life and retailers will need to reflect it in the proposition they are building.
Part of a distressed retailer's future will depend on how its new owner deals with it, and of course it remains to be seen how owners from Sun European to Edinburgh Woollen Mill manage their new brands. The signs are good for some. Peacocks is set to receive £50m worth of investment and owner Philip Day says store refits are planned for some of the estate. The brand – which is still strong – will be moved back to its value heartland and all guns are blazing on returning the clothing retailer to profit.
The right idea
A positive attitude is needed if owners are going to bring retailers back to health. JD Sports Fashion chairman Peter Cowgill said in January he aims to turn a profit at Blacks in the next financial year, while Sun European vice-president Matthias Gundlach said of Bonmarché in January: "Thanks to its strong range with a good value-for-money proposition and a unique in-store service experience, Bonmarché has a loyal customer base of regular repeat buyers. We are confident in putting a sustainable growth programme in place and working with the management team to develop the business successfully."
There will undoubtedly be some tough love to endure, but many of the new owners do have the logistical capacity and operational know-how to nurse a retail business back to health and if there's a way to do it, they're in the right position to achieve it.
It's one of the hardest journeys a retailer can embark on and, as previous casualties Adams, Officers Club, Ethel Austin and Past Times show, it's one that often ends in disaster. But there's always hope. With a strong brand, the right management team, good advice and a good turnaround plan, there's every chance some of retail's current crop of administrations will still be here in five years' time.
Second time lucky - the chances of survival
Blacks Leisure Blacks was bought out of pre-pack administration in January by JD Sports. The retailer is now focusing on family leisure. "It has got a strong brand with reasonable appeal," says Sarah Wilson, director of consulting operations at consultancy the Egremont Group. The retailer aims to reinvent itself, not just refinance. The business' turnaround plan includes a product overhaul, localised offer and store refits.
Peacocks Edinburgh Woollen Mill owner Philip Day bought Peacocks in February. There will be a return to its value focus, and many believe the signs are positive that the brand will survive. The next 18 months will prove crucial in determining its future. "We know Primark is still growing so there's a big value need out there," says Wilson.
JJB JJB has been at the centre of a drama involving CVAs, refinancing and turnaround plans for a couple of years now. Wilson is hopeful it can come out the other side. "It is reinventing the model and we may well find in five years JJB is the retailer everyone goes to for their sports needs."
Woolworths The former high street stalwart now operates online, owned by Shop Direct. It's difficult to know how the site is doing, but re-establishing a high street presence would be a difficult task now.
Jane Norman George says Jane Norman was "highly leveraged" before Edinburgh Woollen Mill bought it in 2011. He says: "Now it's under different ownership with a slightly different, more sensible funding strategy, it should be fine."
Habitat Home Retail Group now owns the Habitat brand, and the business comprises three stores and a website. Wilson says there might be hope for the brand if the online offer can be whipped into shape. "Habitat has got such a strong brand," she says.
MFI Relaunched as another online-only brand, which has changed its focus from kitchens to package deals for different rooms in the house. Sales figures are not yet available.
Bonmarché Bonmarché was bought out of pre-pack administration in January by Sun European. It bought 390 stores, although about half of these were due to be closed. Gavin George, managing director of restructuring specialist GA Europe, says the business model is still "very valid".