Total gross transaction value was flat at £1.3bn
Profit before tax and exceptionals was £3.4m
Like-for-like sales rose 0.9%
House of Fraser more than doubled its pre-tax profits last year to £3.4m from £1.3m.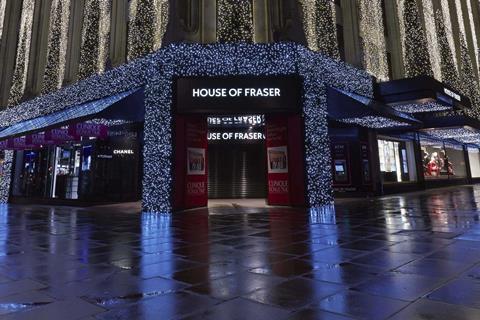 While the new financial year has proved as volatile as last, House of Fraser said that after a "subdued" February there was "significant improvement in March", which was ahead of expectations.
Gross transaction value was flat at £1.3bn in House of Fraser's year to January 28, when like-for-likes advanced 0.9%.
House of Fraser's online business generated a 16.1% uplift in like-for-like sales and accounted for 21.8% of the total.
EBITDA fell by £2.7m to £63.6m because of "a reduction in financial services income of £3.9m in the first half".
House of Fraser chief financial officer Colin Elliot said: "To deliver such a strong set of results for the year is a testimony to the resilience of our business model, and credit to the expertise and dedication of the new senior management team and our thousands of colleagues across the group.
This is an exciting time for House of Fraser and I am confident that the actions taken by the new leadership team places us in a strong position for the future."
Brand focus
House of Fraser said sales of branded lines rose 3.6% but its house brands were down 2.1%.
Beauty was strong, up 4.1%, but womenswear sales slipped 0.6%.
The retailer said that over the next 18 months it will concentrate on "refreshing" its house brands, and five under-performing such brands will be discontinued.
House of Fraser will focus on "improving the quality and designs of the most popular and best-performing brands". The new house brand womenswear offer will be available from this year's Autumn/Winter season.
House of Fraser refurbished five stores over the year and last month completed a £25m upgrade of its ecommerce platform.
A review of warehouse operations and stock buying patterns has identified productivity and efficiency improvements.
"Significant changes to improve the performance of logistics and supply chain will be implemented over the coming 18 months," the retailer said.
On current trading, House of Fraser reported: "The volatility experienced throughout fiscal year 2017 has continued into the current financial year.
"Whilst trading remained subdued in February, as witnessed across the retail sector, the group saw significant improvement in March, with House of Fraser delivering a strong performance for the month ahead of expectations."