Poor weather hit sales but the retailer continues to focus on store formats and big-ticket items.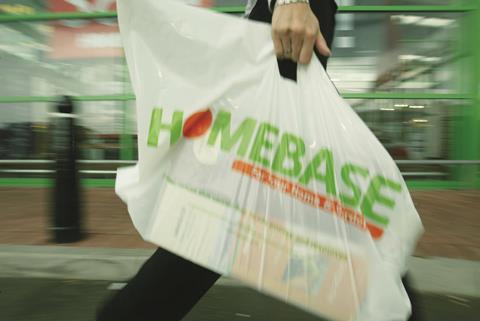 In recent years Homebase has been the more robust business in the Home Retail Group portfolio, outperforming sister chain Argos, which has suffered declining sales in a tough market.
However, last week the tables turned, with Homebase reporting an 8.3% plummet in like-for-likes after the wettest April in 100 years in its last quarter, and Argos improving to a decline of 0.2%.
Homebase was formed in 1979 as a joint venture between Sainsbury's and Brico DIY owner GIB of Belgium. The first Homebase opened in 1981 and it shortly became the UK's second-largest DIY retailer.
It then passed through various owners before becoming a stablemate of Argos in 2002, initially as part of GUS, then later as part of Argos Retail Group.
Homebase quickly began to benefit from links with Argos, increasing its range of homewares, furniture and furnishings, cementing its point of differentiation between it and its rivals – at that point B&Q, Focus and Wickes.
Homebase has traditionally been the more female-friendly of the DIY chains, with a more clearly defined home enhancement and style-led offer.
The DIY retailer was a beneficiary of the collapse last year of Focus, which was at the softer end of the home improvement market.
However, arch-rival B&Q, to which Homebase has always played second fiddle, is making moves in a similar direction, aiming to attract more women customers and going head-to-head with Homebase like never before.
Homebase's performance has been patchy over the last decade. A strong performance from 2003 to 2005 was undermined by a heavy fall in profit the following year and a slow down in like-for-likes each year until 2009. Compared with the recession-hit like-for-likes, the retailer's performance began to improve but this was short lived, with overall sales down 1.3% in 2010/11, although it did outperform Argos.
Last year, overall sales fell 2.6% while like-for-likes dropped 2% in a difficult big-ticket market.
Homebase, which uses the Nectar loyalty scheme, has improved its online offer in recent years, expanding the range to include more than 15,000 exclusive online items this year, an increase of 1,400 on last year. Traffic has been driven by facilities such as online DIY advice, with this section enhanced to include 'how to' videos during 2011 and 2012.
Other recent initiatives have included a customer gardening site and the launch of an iPhone app, with a QR code trial enabling customers to access product reviews in stores.
While Homebase has historically focused on product differentiation, its store format has often been less of a focus. However, it installed mezzanine floors in about 55% of its stores, enabling an increased range of fitted kitchens and bathrooms to be displayed.
Meanwhile, in recent months, a new format focused on home decorating has opened in Aylesford, Kent, and further developments are planned. The store features an upgraded kitchens offer, including an installation service, as well as the introduction of new lines. The upmarket Odina fitted kitchen brand was introduced in 2011, featuring in 19 stores by early 2012.
Further exclusive furniture brand ranges have also been introduced into mezzanine space across the estate and, as a result, Homebase has seen its share of big-ticket sales increase from 20% to 22% in the sheds market in the three years up to 2011/12, according to GfK.
Meanwhile, the retailer is set to benefit from the launch of Habitat-branded products in store later this year, after Home Retail's acquisition of the brand in 2011 for £24.5m.
Retail Week Knowledge Bank remains cautious about the business's future. It says: "In the short term management focus has been on seeking further operational efficiencies and evolving ranges, store formats and multichannel facilities, rather than major market initiatives.
"The watchwords across the two formats going forward continue to be cash generation, gross margin management, cost control and cost base micro-management." Careful evolution, then, remains the key focus.
Home comforts
Owner Home Retail Group
Managing director Paul Loft
2011/12 total sales £1.5bn, down 2.6%
2011/12 like-for-likes Down 2%
2011/12 operating profit £22.8m, down 52.1%