The Original Factory Shop has reported solid Christmas sales, as it reveals it is testing a smaller store format.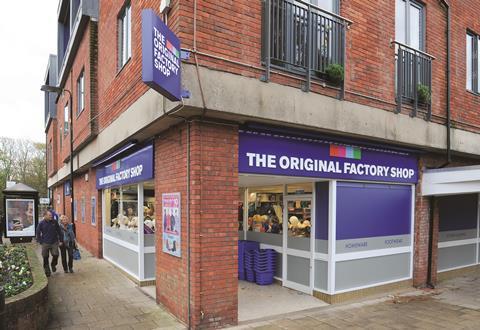 Sales for the four weeks from December 9 to January 5 increased 4.8% and like-for-likes jumped 1.5% at the value department store chain.
It also achieved record trading days on Christmas Eve and Boxing Day.
The Original Factory Shop chief executive Tony Page said it is highly likely the retailer has increased market share in the period.
It had to close some stores for a short time during the period because of storm damage, but that did not impact the overall numbers.
Page said the retailer's offer of "quality brands and genuine bargains" had enticed shoppers.
But he said that, despite the good performance, the retailer forecasts a profit dip in its full-year to March 31 because of investment in software to improve stock control. Page declined to say how large the fall will be.
Additionally, The Original Factory Shop is testing a new small store format half its normal size.
The retailer has opened a 3,500 sq ft store in Romsey, Hampshire, which sells its complete offer excluding pet accessories and childrenswear. It is half the size of standard store, which is 7,000 sq ft.
Page said: "It's gone down really well in Romsey. It tells us a lot about where to go in future."
In November, the 191-store retailer launched an 11,000 sq ft format in a Tesco Extra store on a retail park in Newport. Page said the retailer will review all its formats later this year.
The retailer plans to open up to 15 stores this year, an increase from nine in 2013.