Tesco has improved performance over Christmas, unveiled the appointment of Halfords boss Matt Davies and is to close its Cheshunt headquarters.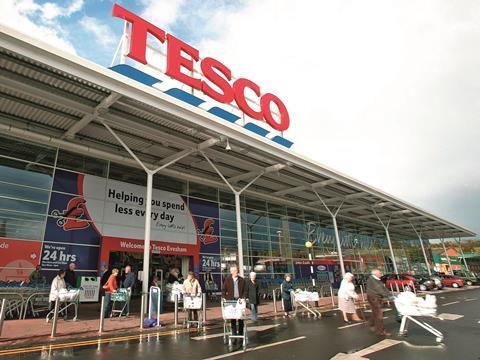 Tesco UK like-for-likes fell 0.3% in the six weeks to January 3, and by 2.9% in the 19-week period, an improvement in performance for the embattled grocer which reported like-for-likes down 5.4% in the previous quarter.
It has hired the well-regarded Davies to head its UK and Ireland business, effective from June 1. It will also consolidate its head office locations, closing Cheshunt in 2016 and making Welwyn Garden City the UK and Group centre.
Tesco chief executive Dave Lewis said Davies has "huge intelligence, integrity and values" and "will be a great addition to the team, particularly in the way he leads people and the values he brings".
He said that while there was some soul-searching around the closure of Cheshunt, the majority of the UK team were already in Welwyn Garden City and the move represented a "new chapter for Tesco".
Store closures
Tesco will close 43 unprofitable stores as part of its strategy to turn around the UK business, many of which will be Express shops. It will also restructure central overheads, simplify store management structures and increase working-hour flexibility. Tesco forecasts the plan will deliver savings of about £250m per year at a one-off cost of £300m.
In addition to the store closures, Lewis said he has written to 49 communities where Tesco had committed to developing stores to say it was now not going ahead with the plans. Most of the stores were planned to be large superstores.
Lewis could not put a figure on the number of redundancies from the restructure and store closures, but said he wants to reduce Tesco's central overheads by 30%.
Investing in prices
The grocer will introduce a benefits package for store colleagues and a bonus scheme. It will also invest in prices, particularly branded products, to fight back against the discounters.
Lewis said: "We are seeing the benefits of listening to our customers. The investments we are making in service, availability and selectively in price are already resulting in a better shopping experience. A broad-based improvement has built gradually through the third quarter, leading to a strong Christmas trading performance.
"I would like to thank all of my colleagues in Tesco. The unique combination of retail expertise and real passion for the customer has been an inspiration to be a part of. In difficult circumstances the team has begun the challenging task of reinvigorating our business. There is more to do but we have taken the first important steps in the right direction.
"We have some very difficult changes to make. I am very conscious that the consequences of these changes are significant for all stakeholders in our business but we are facing the reality of the situation. Our recent performance gives us confidence that when we pull together and put the customer first we can deliver the right results."
Taking action
Lewis is also taking action to strengthen the Tesco balance sheet including a "significant revision to our store building programme" and the initiation of consultation to close the company defined benefit pension scheme to all colleagues.
Tesco will also "significantly" reduce its capital expenditure budget in 2015/16 by £1bn. It also aims to dispose of non core assets including streaming service Blinkbox to Talk Talk. It has hired Goldman Sachs to explore strategic options for its data firm Dunnhumby, including a sale, partial sale or IPO. Tesco will not pay a final dividend for 2014/15.
The grocer, which endured an accounting crisis at the end of last year that shook customer confidence in the brand, said it also aims to "rebuild trust and transparency". It has launched a raft of price cuts today on branded products. It hopes to regenerate relations with suppliers with new commercial income guidelines and associated year-end cash management.
Total UK sales including VAT and excluding fuel fell 1.3% in the 19-week period.
Group like-for-likes were down 2.7% in the 19 weeks, and down by 0.6% in the six week period after Europe returned to positive like-for-like growth of 1%.
Tesco said its robust performance is the result of improvement in prices, availability, queues and store standards following the introduction of more than 6,000 new store staff.
The grocer said like-for-like volume growth in fresh food was positive over the Christmas period, for the first time in five years.
The retailer said Black Friday promotions resulted in its highest week of sales on record for Tesco Direct, contributing to 22.2% like-for-like sales growth in online merchandise for the Christmas period.
Like-for-likes at its convenience arm over the Christmas period were up 4.9% while online increased 12.9%
Tesco has reiterated its guidance for group trading profit of no more than £1.4bn for 2014/15.
Halfords said it is in the process of finding a replacement for Davies, who will stay as chief executive until May.
Tesco unveils improved trading and hires Matt Davies as UK boss
1

Currently reading

Tesco unveils improved trading and hires Matt Davies as UK boss

2

3

4

5

6

7