Shoppers are planning to spend less in the January Sales after splashing out during pre-Christmas extravaganzas including Black Friday.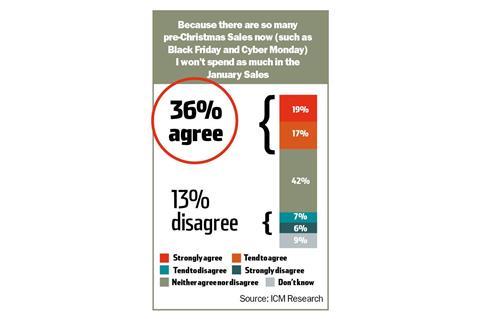 More than a third (36%) of consumers plan to spend less during the January Sales period, which is typically the biggest time in the retail calendar for Sales and promotions.
The findings of an exclusive poll for Retail Week by ICM Research also raise questions about the overall allure of January Sales.
A fifth of shoppers say they do not believe the January Sales offer the best bargains, although a third believe they do.
Age is a factor; younger shoppers are more likely to agree that January Sales offer the best bargains.
However, 14% of shoppers plan to spend more in the January Sales than last time, compared with 11% last year.
ICM said: "The impact of pre-Christmas offers and strained household budgets is potentially reflected by the small proportion of consumers who are planning to spend more in the January Sales this year."
The study found that age is a key determinant for increased spending. Those under 35 are much more likely to say they will spend more.
Fashion is expected to be a particular focus for January Sales shopping, for both men and women.
Male shoppers are also expected to spend on entertainment products and small tech items, while female shoppers are forecast to spend on toiletries and beauty.