An unprecedented number of retailers are poised to take part in a Black Friday deal frenzy that is expected to deliver £200m of sales.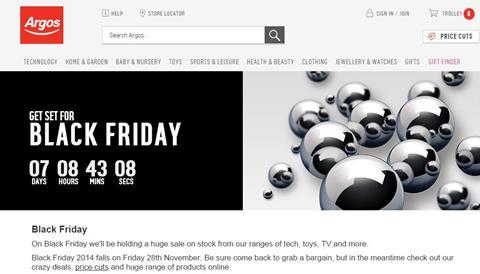 Retailers including Tesco, Argos, Marks & Spencer, Sainsbury's and Homebase will ramp up Black Friday promotions this year.
Mintel estimates next week's event will be twice the size of last year's, which generated sales of £100m, as more retailers scramble to grab a slice of the action.
Embattled grocer Tesco is to wade into the Black Friday fray in a much bigger way.
It will run in-store promotions for the first time, as well as an online offer, as it bids to create excitement and enhance its reputation for value.
Sainsbury's will take part for the first time. It will run the event in 485 stores across 13 product lines, with a 'when it's gone, it's gone' policy. Nectar customers will receive information on the products on wednesday, and they will go on sale on the friday.
Roger Burnley, director of retail and operations at Sainsbury's said: "It's a competitive market, so it felt right to be part of the mix this year and kick off the busiest trading time of the year with a popular sales event."
Black Friday took off in earnest in the UK last year when Asda threw its weight behind the sales extravaganza.
Amazon brought Black Friday to UK
Amazon first introduced Black Friday into the UK in 2010 and this year will kick off a week's worth of Black Friday promotions on Monday.
The online giant will unveil new deals every 10 minutes in the run-up to Friday and has plans for a total of 3,000 special offers, 10 times the number available in 2010.
Other retailers are also extending deals over several days. House of Fraser will launch offers on Wednesday, Currys PC World will time promotions across several days, while rival Ao.com is running a week-long event and predicts a 40% year-on-year increase in sales.
John Lewis believes Black Friday will overtake Cyber Monday (December 1) as the biggest online sales day in the UK.
Argos marketing director Stephen Vowles said the last Friday of November has always been a big shopping day because it falls around the second-to-last pay day before Christmas, but believes Black Friday has made it even more crucial for retailers.
Vowles revealed Argos will be running a 'Get set for Black Friday' campaign as it aims to capitalise on an event he said will be a "bigger deal in customers' minds" this year.
Mintel's European retail analyst John Mercer said a large proportion of Black Friday sales "will be Christmas spending pulled forward".
"Are these profitable bulk deals from suppliers being transitioned into promotions, glorified clearance activity or taking a hit on margins to get people in stores?"

Bryan Roberts, Kantar Retail
Kantar Retail director of retail insights Bryan Roberts warned retailers must take care not to cannibalise their own Christmas sales.
He said: "Are these profitable bulk deals from suppliers being transitioned into promotions, glorified clearance activity, or taking a hit on margins to get people in stores?"
In previous years Black Friday in the UK was focused online, especially on electricals, but next week marks a sea change as other sectors get involved.
Furniture retailer ScS is considering running Black Friday deals for the first time, while fashion retailer Hobbs will also offer discounts.
In London's West End the three days beginning with Black Friday are expected to be the biggest of the Christmas period, generating sales of £220m.
Ebay predicts Sunday 30 November will be its busiest day of the year and estimates 7m shoppers will visit the site on the day to take advantage of the 104,000 deals on eBay.co.uk.
Retailers have even begun to spread the US-born phenomenon across Europe. Dixons Carphone's Nordics business will introduce in-store Black Friday promotions for the first time as it builds on online deals it ran last year.