We take a look at some of the landmark moments in retail over the last quarter-century. Do you remember when..?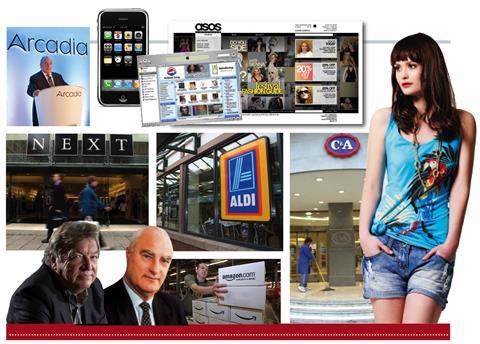 1988
George Davies leaves Next
Getting sacked is no one's idea of a good time and George Davies might not have left Next, the business he was so associated with, in the way he might have liked. But Davies' departure from the clothing retailer meant the entrepreneur was unleashed once more on the retail industry and was ready with ideas.
Just two years after leaving Next, he founded George at Asda, the first clothing range to be launched by a supermarket and the first big launch in general merchandise by a grocer. And if that wasn't enough for one career, Davies went on to create the Per Una fashion range for Marks & Spencer in 2000. If he had stayed at Next, the fashion retail landscape today would be very different.
1989
First out-of-town Next store opens
Fashion retailers' move away from the high street to out-of-town parks was a surprise at first. Long the domain of the bulky goods specialists, out-of-town retail parks were not deemed aesthetically pleasing enough to tempt the visually picky fashionistas from the more decorative high street.
But Next's move to out-of-town changed all that. It signified a fundamental shift in the way retailers did business, and moved the centre of gravity for years to come.
1990
Aldi arrives in the UK
Ever since Aldi touched down in the UK 23 years ago it has been keeping the big four grocers on their toes. Its appearance on British shores helped to prompt a new era of price focus. Competition was notched up a grade as the British grocers took a cue from Aldi's value proposition and started battling aggressively over price.
Aggressive is the operative word - the UK grocery market is one of the most fiercely fought in the world. The atmosphere has at times been intense, and the trend has resulted in marketing and branding also becoming a crucial differentiator in a world where customers can buy anything anywhere.
Aldi continues to make an impact today as its sales and market share advance.
My defining moment
Malcolm Walker, founder, Iceland
"The defining moment of the last 25 years for me was getting sacked by Iceland on January 30, 2001, almost 30 years to the day after I had been sacked by Woolworths for setting up Iceland as a sideline.
"Although it seemed very well disguised at the time, my second dismissal actually proved a fantastic blessing. It allowed me to come back to Iceland and turn it around in a way that has vastly enhanced my personal wealth and my enjoyment of life. So it would seem churlish to miss this golden opportunity to say "thank you".
1990
The launch of George at Asda
The George at Asda clothing line was the grocery sector's first large-scale foray into non-food categories, and once the starting gun had sounded the pace was fast.
The supermarkets' move into non-food was comprehensive and they took no prisoners. They built ever-bigger stores to accommodate a growing range of products, and specialist retailers selling books to beauty suffered as a result.
Non-food growth has slowed in the last couple of years but George's launch was the beginning of an era for retail.
1990
Meadowhall and Lakeside open
Four years after the Metro Centre in Gateshead opened its doors, in 1990 the era of the mega-mall was well and truly under way. Local councils were keen to generate economic growth and allowed these colossal shopping meccas to be built. A few years later planning laws were tightened as officials tried to reverse the effects on the high street.
But shoppers had the bug and other big schemes continued to trickle through. Early 1990s schemes paved the way for projects such as Bluewater in 1999 and Westfield Stratford in 2011. They changed the way people shopped and made the malls the top shopping destinations they remain today.
1991
Gerald Ratner's slip-up
Gerald Ratner's infamous faux pas - when he described his own products as "total crap" - saddled the jewellery retailer with an unfortunate legacy given his undoubted retail talent.
To be fair, he wasn't the only one. In 1995 book chain Blackwell's managing director Richard Barker admitted he was "not interested in what we sell", and hi-fi specialist Richer Sounds' Julian Richer rated his own shops as "disgusting".
They're the kind of comments we're unlikely to hear today - chief executives are guided in PR to the hilt and speeches and interviews are carefully vetted and approved.
1994
Sunday Trading Act given Royal Assent
After years of wrangling and some division in the industry, the Sunday Trading Act was finally given Royal Assent, allowing retailers to open on a Sunday without fear of hefty fines.
The step was a hugely important one for the industry, which had long argued the need for Sunday opening. It paved the way for the 24-hour shopping culture we know today and opened up more avenues for domestic growth, helping to make shopping more of a leisure activity and a vital part of the economy.
1995
Tesco's dominance begins
1995 was a pivotal moment in Tesco's history as it overtook Sainsbury's to become the UK's biggest grocer by market share.
The following year, Terry Leahy became chief executive, and the company's most successful period to date began in earnest.
Leahy and his team cooked up some of the industry's most important ideas and led the way in game-changing innovation.
Tesco was first to open a hypermarket - in Pitsea, Essex in 1997 - and the first to roll out a convenience estate. Its Clubcard led the way in analytics, and Leahy's focus on listening closely to customers changed the way retail operated.
My defining moment
Sir Richard Greenbury, former chairman and chief executive, M&S
"Personally, breaking £1bn profit. It wasn't just one year, we made £5.1bn in five years - clean profit.
"The biggest impact of any single thing on retail was the rise of out-of-town supermarkets and malls like Bluewater. It changed the face of retailing. If you were a small retailer in a small town it might have been bad but from a customer perspective it was everything they could ask for. In the last few years there's been the growth of online. I don't think it's on the scale of change of out-of-town yet but in time it will have the same impact on how people shop.
"The other thing that's brought huge change, in my opinion not for the good, is Sunday trading. It increased retailers' costs but it's not extra business."

1995
Tesco Clubcard launches
Clubcard was not just a breakthrough for Tesco. It affected the way nearly every retailer does business, putting the customer at the centre of decision making and ramping up the importance of analytics.
It was followed two years later by the Boots Advantage Card, and between them the two schemes kick-started the creation of a new way of working. Today the importance of data continues to grow - nearly every retailer has some kind of analytics operation, while the volume of customer and product data has mushroomed with the advent of social networks and smartphones.
1998
Amazon UK launches
Few retailers have been unaffected by Amazon's relentless march on the industry over the past 15 years. The ecommerce giant has almost single-handedly changed the way business is done, with its focus on price and range impossible to ignore.
It has played a role in the downfall of retailers such as Comet, HMV and Jessops and put pressure on pretty much everyone. The only categories it hasn't managed to infiltrate heavily are fashion and grocery, and the etail giant is already on the case with the former and is mulling over the latter - there is constant speculation about its launch into food. Amazon's level of innovation is almost unparalleled and the industry will continue to watch its every move.
1998
M&S hits £1bn profit
Marks & Spencer was the first retailer to record a profit of £1bn, taking the business and retail to a new level.
It was followed in 2001 by Tesco, which broke further records when it doubled that to £2bn just three years later in 2004. The achievement, which M&S repeated in 2008, was a high-water mark for the business and represented a high point for retail in general.
1998
B&Q merges with Castorama
B&Q's merger with the French DIY chain marked a turning point for parent Kingfisher, led by Sir Geoff Mulcahy, as well as the UK chain. It ignited B&Q's international drive, which led to launches in countries such as China, Turkey and Russia. Its growth has relied increasingly on markets outside the UK, and its strategy has been reflected in other retailers' movements overseas. The merger was one of the most notable instances of UK retail's trip abroad over the past 15 years - it was a pivotal moment.
My defining moment
Lord Kirkham, founder, DFS
"The defining moment was obviously the first appearance of Retail Week: an event as important to us shopkeepers as the discovery of the Dead Sea Scrolls to Biblical scholars.
"My personal highlights would have to be floating DFS in 1993, taking it private again in 2004, and finally selling it to Advent International six years later. All experiences that confirm the eternal truth of one popular saying from the Good Book: "To everything there is a season, and a time to every purpose under the heaven." Gospel to me."
1999
Walmart acquires Asda
There had been speculation for years about if and when Walmart would enter the UK, but no one expected it to arrive in quite the circumstances it did.
The landmark deal prompted fears that Walmart's clout would put other grocers out of business and, while that didn't turn out to be the case, the landscape fundamentally changed.
The deal also put paid to Kingfisher's dream of creating a European Walmart.
The retail conglomerate had itself lined up a deal with Asda, and Walmart's last-minute move meant it was jilted at the altar.
The deal defined the future of Kingfisher, leading to its focus on B&Q and the eventual spin-offs of Woolworths and Comet a few years later.
My defining moment
Alex Gourlay, chief executive, health and beauty, Alliance Boots
"In 2006, Alliance UniChem and Boots merged to form Alliance Boots. We have invested in transforming stores, improving the Boots supply chain and modernising IT, and strengthened our position. Last year we also announced a strategic partnership with Walgreens."
2000
C&A exits the UK
One of the biggest withdrawals from the UK market, C&A's exit was a shock. It reflected the increasingly cut-throat nature of UK fashion retail and led to a land grab among the remaining players, which raced to pick up C&A's market share.
The retreat helped to shape the fashion landscape of today. C&A's Oxford Street flagship was taken over by Allders and then by Primark. Its transfer to Primark epitomises how apparel retail has changed in the last 25 years. In 2000, Primark had 75 UK stores - today it has 161 and counting.
2000
Asos and Ocado launch
While C&A was retreating, two of today's biggest etail names made their debut. Nick Robertson and Tim Steiner were busy establishing companies that have both gone on to change retail.
While Ocado isn't yet the financial success it's hoped it will be - it's still to make a full-year pre-tax profit - the etailer has pioneered online grocery retailing and has prompted the big four grocers to up their game.
Asos, meanwhile, has impacted the fashion sector in a big way. Its product range, use of online marketing and flawless international expansion are all trailblazing, and have enabled it to carve out a niche for itself and set new industry standards.
Both companies represent the best of the online boom of the late 1990s and early 2000s and, along with Amazon and eBay, go some way towards summing up the effect the internet has had on shopping.
2001
Apple launches iTunes
Today's teenagers might be surprised to learn that less than a decade ago, people purchased music in shops.
Then Apple launched iTunes and immediately things started to change. The systematic overhaul of the music sector has been one of the most dramatic in retail.
While Amazon mopped up much of the physical part of the market with its low-price CDs, iTunes proceeded to fundamentally change the way consumers bought music, and since then CD and record buying has become
a niche activity.
In its way, iTunes was as significant for the music sector as the end of the Net Book Agreement in 1997 was for the book sector.
My defining moment
Archie Norman, former chief executive, Asda
"The sale of Asda to Walmart in 1999, realising a return of 10 times to the shareholders. It changed everything and changed nothing, as Asda remained Asda and went on to be very successful - without me."
John Lovering, Maplin chairman and serial retail dealmaker
"The day Liam Strong was appointed chief executive in 1991 at Sears. His arrival set me on the road to a life in private equity. The first deal is the hardest to find. The second is easier. My initiation was a cheap purchase from Sears of a great Dutch business I used to chair.
It had gone awry while I was away. I learned a vast amount about customer-focused retail within strict operational rules."
2002
Sir Philip Green buys Arcadia
Sir Philip Green has featured prominently on Retail Week's pages since its launch, but this was the deal that really established the entrepreneur at the forefront of the retail scene.
It gave him control of the second biggest fashion retailer in the UK, and has since led to the international expansion of the Topshop and Topman brands.
It also enabled the retail tycoon to launch projects such as the influential and hugely successful tie-up with Kate Moss, and made him a contender to bid for M&S.
2003
Baugur acquires Hamleys, Oasis and Julian Graves
Baugur's acquisitions in 2003 marked the start of a feeding frenzy in retail by private equity companies. In the years following, retailers including Karen Millen and Pets at Home were snapped up by Baugur and other private equity companies, culminating in Stefano Pessina and KKR's £12.4bn purchase of Alliance Boots in 2007.
The fun ended when the financial world came crashing down in 2008 and Baugur hit the buffers in 2009. Its demise symbolised the end of a deal-making era.
2004
Justin King joins Sainsbury's
When Justin King joined Sainsbury's from M&S's food department, the UK's second biggest grocer had lost its way.
Tesco's momentum had completely trumped Sainsbury's efforts, and the retailer was lacklustre and devoid of direction.
King breathed new life into the brand, putting it back at the top of its game and ending its period of decline. It has since made gains in market share and masterfully weathered the recession, focusing on price via its Brand Match scheme while still managing to retain its reputation for quality.
2004
Sir Stuart Rose returns to M&S
Sir Stuart Rose, seen as M&S's 'king over the water', breathed new life into a troubled M&S when he returned to face a bid from Sir Philip Green.
He reinvigorated the retailer and restored its faith in itself. Rose saw off Green's bid for the business and managed to keep it public, and brought it back to £1bn worth of profit in 2008.
His return to core principles combined with a modernising approach.
2007
Apple launches the iPhone
The full repercussions of smartphones and mobile devices in retail are yet to fully unfold, but it's clear that mobile's effect on the industry will be significant.
Retailers have had to race to keep up with the pace of change as disruptive innovation comes thick and fast, and shopping habits are changing fundamentally as consumers increase their use of mobile both in-store and at home.
My defining moment
Lord Harris, founder, Carpetright
"It's Carpetright's 25th birthday this year too so we share a very special celebration with Retail Week.
"Milestones for Carpetright are certainly opening our 100th store in 1992, our flotation on the Stock Exchange in 1993 and cementing our position as the leading specialist, with our 500th store in 2005.
"Personally, the defining moments in the period were winning Entrepreneur of the Year in 2007 and the Retail Week Award for Outstanding Contribution to Retail in 2012.
"More recently, it has been the sadness of watching so many retailers going out of business, although I am hopeful that now we may have come through the worst."
2007
John Browett starts at Dixons
On paper, Dixons back then looked as if it could have been the kind of victim Comet became. Structural changes caused by the consumer shift online, the recession, Apple's infiltration of the marker and Amazon's growing presence in electricals would have been too much for many retailers to handle.
But John Browett's leadership meant Dixons is not only with us today, it has seen off Best Buy, outlived Comet and is confronting the Amazon challenge under Seb James and Katie Bickerstaffe's leadership.
It seems set to continue making gains through its multichannel strategy and service proposition, which has chimed with customers.
2008
End of the line for Woolworths
Woolworths was one of the biggest and perhaps most shocking of the recession's casualties. Its downfall was a red-letter day for all the wrong reasons, signifying the extent of change in the industry and the need for retailers to adapt.
2011
The riots
English cities went up in flames in August 2011 when retailers bore the brunt of the disorder.
Stores were burned and looted as cities including Birmingham, London and Manchester became war zones.
Retailers of goods such as trainers and electricals were among those targeted by the mobs.
Altogether more than 10,000 retail staff were affected.
Images such as a Poundland employee leaping for her life epitomised the chaos.
But perhaps the defining image of the riots was the blazing House of Reeves furniture store in Croydon. The 150-year-old family owned business still trades in Croydon but the shop set ablaze that night has not reopened.
My defining moment
Lord Kalms, founder, Dixons
"A phenomenal two decades: the iPad revolution; the growth of the internet business; the challenge and failure of Best Buy; the rise of Apple and Samsung; the sad demise of Kodak; the financial crisis; the riots; opening our first megastore. My highlight after 54 years as chief executive and chairman was in 2002 when I became life president."
Alex Gourlay, chief executive, health and beauty, Alliance Boots
"In 2006, Alliance UniChem and Boots merged to form Alliance Boots. We have invested in transforming stores, improving the Boots supply chain and modernising IT, and strengthened our position. Last year we also announced a strategic partnership with Walgreens."
2012
Philip Clarke calls an end to the space race
After two decades of space growth in grocery and retail as a whole, Philip Clark's signal that the days of giant store openings were over marked a fundamental change in strategy.
He called time on the retail space race, convinced that changing shopping habits mean future growth will come from a different approach to stores and ecommerce.
While new sites will still be needed - especially in the convenience sector - the focus has changed to digital and multichannel growth and the role of stores has changed.
Clarke's speech vocalised a shift the industry had been feeling for a couple of years, and marked a key moment of change.
My defining moment
David Simons, former chairman, Littlewoods, and former chief executive, Somerfield
"During most of the last 25 years, the tendency has been for food shops to get ever larger in size as the UK modelled itself on France and America. I remember seeking to convince investors in 1996 as we sought to float Somerfield that big was not always beautiful and that there was a real opportunity for smaller local stores - and meeting massive scepticism.
"Trying to explain that the then offer of poorly presented and stocked local shops did not have to be typical and there was demand for convenience, simply did not resonate. Today food growth is fastest in that local store where standards and offering are on a par with supermarkets. For me this development is up there in the most significant changes."
Comment: Retail at top of its game through 25 years of change
1

2

Currently reading

Retail Week's 25th anniversary: 25 moments that defined retail

3

4

5

6

7

8

9