Do you remember who said what, who bought what and who opened what in 2012? Then try Nick Bubb's Retail Week quiz of the year.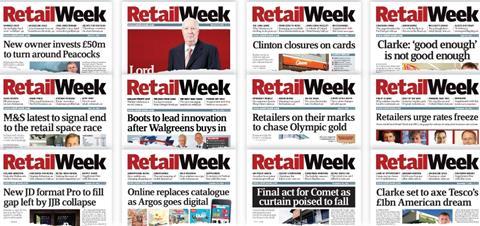 Quotes
Who said of what: "It didn't have enough oomph behind it"?


Who said "We're now climbing out of the hole and on track to get positive EBITDA this financial year if current trends continue"?


Who said "If the economy were to have a weather forecast, the outlook would be overcast"?


Who said, back in January, "We have some amazing new products in the pipeline"?


Who said "The traditional high street model is almost completely moribund"?


Who said Simon Calver's appointment as CEO of Mothercare was "A radical, decisive and extremely positive choice"?


Who said "Amazon is a ruthless, money-making devil"?


Whose operational presentation was entitled "Right Retailers. Right Places. Right Rents"?


Who said "We're not in a position as a public company to do these dodgy things like going into liquidation and buying them back the next day. We have to behave honourably."


Who said "Bubbles blown large enough inevitably pop"?


Who said "At the core of this investment is our determination to deliver the best shopping experience for our customers, bar none"?


Whose investment was described by FT Alphaville as "a deeply unsuccessful punt on washing machine demand in Toulouse"?


Who said "No one thinks that because we are in a technical recession I won't go out and buy a new pair of trousers"?


Which CEO did the Observer call "the most aptly named man on the High Street"?


Who said "Some High Streets are medieval, some are Victorian. They were designed for a different world"?


Who said "We are now committed to growing the Group in a controlled and measured way"?


Which troubled retailer was described by the FT as "like watching a donkey run the Grand National"?
Who bought?
Clinton Cards


Peacocks


Blacks


Fenn Wright Manson


Anobii


Bon Marche


Game


60% of B&M Bargains


25% of Top Shop


Hawkins Bazaar
Openings
Who opened a bookshop in Kings Cross?


Who opened a convenience store inside Canterbury cricket ground?


Who opened a six-floor store in Exeter?


Who acquired the site of "Oriental City" at 399 Edgware Road?


Who opened a food shop opposite Waitrose in East Sheen?


Who opened an upmarket bakery on the Cromwell Road?


Who opened a distribution warehouse in Moenchengladbach?
Pot luck
Which retailer changed its year end from March to August, "to align with the buying seasons in the fashion industry"?


Who came up with the nickname "manapes" for a new easy-to-cook range of canapés?


Which retailer wrote a book called "10 Management Lessons"?


Which retailer wrote a book called "Sold Out"?


Which retailer moved on to join Trinity Mirror?
Send in your answers
Please email your answers to victoria.thompson@emap.com by 3rd Jan 2013. The overall winner will receive a £30 John Lewis voucher.
We will publish the winners on Retail.Week.com in early Jan. Good luck!