Retail criminals can range from teenage shoplifters to sophisticated in-house fraudsters. Sarah Butler explores how retailers can protect themselves.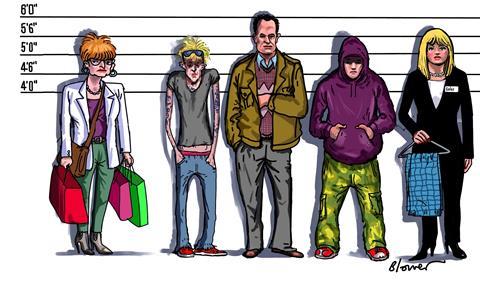 They may leave a trail of broken security tags, mysteriously empty shelves and accounts that don't quite add up, but who exactly are retail criminals?
While the average number of thefts and burglaries fell last year, the average cost of retail crime rose 31% to £1.4bn, according to the British Retail Consortium. This marks an increase in more serious and organised crime that demands a cohesive response.
So knowing an opportunistic shop lifter from a highly organised professional thief can help retailers develop the right plan to protect their business during what are tough times for both retailers and shoppers.
Professional thieves
Professional shoplifters are responsible for about 20% of retail thefts, according to Joshua Bamfield of the Centre for Retail Research who is author of Shopping and Crime. Professional thieves can be highly effective, and expect to be caught only in between one in 10 and one in 20 offences.
Professionals generally steal things that are easy to sell on, such as relatively valuable branded items with a ready market, Bamfield explains. They're less likely to steal very expensive designer goods unless they have a clear idea of who they can sell these items to. These thieves can be in and out of shops five or six times a day and will focus on all kinds of stores including fashion, food and DIY. Power tools are a particularly favoured target as well as light fittings, locks and, ironically, security systems.
Last year's riots raised the profile of retail crime among teenagers. Yet the average age of retail criminals is distinctly older. At just under 27, according to a Home Office study, the average age of a shoplifter indicates that alongside young people there is a hefty range of people into their 30s and 40s stealing from shops. Another potential surprise is that more than half of shoplifters (54%) are men, according to the Centre for Retail Research analysis of a database of 30,000 shoplifters caught at major retailers between 2009 and 2010. Female shoplifters are more likely to steal clothing, baby items, perfume and make-up, with men more likely to take electricals items, DIY/hardware goods, meat and alcohol.
Professional shoplifters pay close attention to security measures and store design. They will also watch for staff who are not supported with adequate training and procedures.
Retailers have got more expert at spotting and apprehending shoplifters using CCTV and tools such as Facewatch, in which information on local prolific criminals is shared with the police. Bamfield suggests this has led to a rising trend in refund crime among professional thieves. They will copy a receipt so that they can take goods back to a store in return for cash and receive the full worth of the item they have stolen instead of the 30% to 40% they might get by selling it on.
Bamfield estimates refund crimes are now responsible for as at least 10% of retail theft in the UK, and retailers have responded by making receipts more complex to copy. Boots, for example, changed the colour of its receipts and JD Sports and B&Q have also made alterations in recent years. Printer manufacturer Epson says it has seen increasing demand for receipts that use invisible ultra-violet ink. Unfortunately such initiatives have in turn made till rolls a target for thieves.
Stealing while shopping
The majority of shoplifting incidents are committed by ordinary shoppers taking the occasional 'free' item. Nearly two-thirds (61.3%) of shoplifting cases involve £50 or less worth of goods but account for a fifth of total losses according to the Centre for Retail Research and the Sentencing Guidelines Panel. Such incidents can be tricky to detect and even harder to take action against without upsetting regular trustworthy customers according to security experts.
Bamfield writes that shoppers steal personal items because they feel guilty about spending on themselves rather than their families. Therefore, expensive lingerie or beauty goods are more attractive to this kind of thief than inexpensive staples such as baked beans, eggs, bread or sugar. Shoppers feel less inclined to steal those family basics which they have set aside money to buy. They are more likely to steal for the family ahead of a special event, to provide items such as a summer barbecue or Christmas meals. Generally they try to excuse their crimes and may persuade themselves that the retailer is the exploitative one.
Amateur shoplifters calculate the risks and benefits of their actions, so preventing this type of crime is all about increasing those risks. "Shoplifting is characterised by low-entry barriers; therefore many people attempt it, the majority only a few times before they cease, but for others it can be a relatively easy crime to carry out episodically or to continue on a small scale for many years," Bamfield says.
Electronic tagging, alarm systems and CCTV all help put the less experienced and committed criminal off. Catherine Bowen, head of crime policy at the BRC, suggests that the simple step of ensuring a member of staff makes eye contact with anyone who enters the store can be highly effective. Making sure staff have good knowledge of the store's policies and are aware of how to enforce them politely can also make low-level crime less attractive.
In addition, someone who engages in 'de-shopping' – wearing clothes and then returning them for a full refund, or buying a CD or DVD, copying it and then returning it – runs few risks apart from embarrassment or an occasional argument. But thoroughly checking returned goods can decrease the likelihood that shoppers will take a chance in your store.
Graham Allison, retail director of Securitas Security Services UK, points out that during a downturn, a wider variety of people are prepared to take a chance on stealing and partly blames this for a rise in violent incidents. "These are not normal shoplifters and when they get caught, their reaction is to lash out and try and get away," he explains.
He says security staff need to be much more careful about making arrests and to focus efforts on customer service-type activities – such as asking suspicious individuals if they need help – in order to avoid full confrontations.
Bamfield suggests that, while retailers cannot ignore any crime, paying more attention to higher-value employee and customer theft could save more money than dealing with minor offences.
But Bowen says ensuring the police and criminal justice system take retail crime seriously is vital in preventing shoplifting. "There is an issue of under-reporting of retail crime because most retailers don't think the police will act or the courts will pursue," he says.
Drug user
Among professional criminals, drug use and shoplifting are closely interlinked. Town centre police from six areas including Nottingham, Norwich, Slough and the centre of Birmingham and Newcastle estimated that about a third of shoplifters were significantly influenced by drugs according to the Drug Treatments Outcomes Research Study published by the Home Office in 2009. It also suggested retail theft is the most common crime for drug users who have been arrested.
Bamfield says drug users target some of the most regularly stolen items because they are relatively high value, in regular use and can be sold for cash. Razor blades, spirits, baby milk, packed meat, batteries, watches, sunglasses, face lotion, handbags and jeans are among the most stolen items. Focusing security measures on these areas is a no-brainer, and most retailers use security tags on such items.
Bowen adds that engaging with local police forces and communities can help retailers tackle shoplifting as part of wider action against crime. The BRC and the Association of Convenience Stores set up the Tackling Retail Crime Together initiative in October last year to encourage local partnerships between police, retailers and other community groups. Asda, Co-op, Marks & Spencer and Sainsbury's are among those that have shared information about their partnerships with local groups and police in a bid to tackle retail crime.
Young people
Last summer's riots raised fears among retailers about attacks by young people. The London riots cost an estimated £141m in stolen and damaged stock, repair and lost sales, according to the Centre for Retail Research.
Even though the average age of shoplifters of nearly 27 indicates that teenagers are not alone in targeting stores, the average age that shoplifters first offend is quite young – between 10 and 13. The likelihood that someone will start shoplifting declines after 14 according to Save Children from a Life of Crime, by Brandon Welsh and Cambridge University's David Farrington. This suggests that taking action to ensure young children are not drawn into theft and see shoplifting as a serious crime can have long-lasting benefits.
Bamfield suggests that young people are drawn to shoplifting, not merely for the goods themselves but as part of attention seeking and dreams of money and status. Weak relationships with parents and a dislike of being at home were also common among young people who chose to shoplift.
Asda and Co-op have worked with school children and young offenders to attempt to prevent repeat offending.
Co-op works with police and school children to take them around new stores in south Yorkshire and Milton Keynes to educate them about how they operate and the consequences of shoplifting.
In 2005, the group launched its Bach Off campaign, which plays classical music in a number of stores where young people tend to gather. Customers like the music and staff have reported that graffiti, aggravation and shoplifting in their stores had all fallen. Young people weren't keen on the music and, while they might still gather near a particular store, they moved on to other areas after a while.
Asda, meanwhile, is piloting 'police pods' in local stores for community police to be based in. An Asda spokesperson said: "Our store is at the heart of the community, so what better place for our local bobbies to base themselves?"
The retailer is also working with Staffordshire Police on a pilot scheme designed to engage with and educate first-time shoplifters and encourage them to look at the longer-term ramifications of shoplifting on their lives and their community. According to the supermarket, the scheme has already seen success in reoffending rates among the young people involved.
Employee theft
The case of Sainsbury's potato buyer John Maylam who last month admitted accepting £5m in payments linked to key suppliers between 2006 and 2008 indicates the massive potential for internal theft.
Globally, 42.2% of shrinkage is found to be caused by shoplifters and 35.3% by employee dishonesty, according to the Global Retail Theft Barometer, although the percentages vary between companies and countries. Bamfield says that the majority of the value of internal retail crime is accounted for by a relatively small number of serious fraudsters, rather than staff taking the odd note from the till.
Out of 3,000 employees caught by major retailers over two years, a study found 35% of the money was stolen by just 100 people, according to the Centre for Retail Research. They are likely to be in their mid-20s and often in a position of trust. More than half are men (53%), which might be seen as surprising in an industry where much of the shopfloor is dominated by women.
One of the warning signs is an employee who never takes a holiday, according Bamfield, and this means that often those involved in a scam can be those who are regarded as a particularly conscientious and loyal employee, and given a lot of autonomy.
Employees who are successfully stealing can reveal themselves with a sudden improvement in lifestyle and spending or heavy gambling. Fraudsters earning a moderate wage may also give clues to their activities on social media sites with pictures of expensive holidays or new homes.
Data-mining technology, such as VigilancePro Retail – a tool provided by security specialist Overtis that integrates EPoS and CCTV systems – is proving helpful in identifying those who are regularly siphoning goods or cash. Bamfield says interviews with loss prevention managers indicate that data mining systems can achieve payback in three to six months. However, he warns this is likely to be because they quickly identify a large number of unseen scams and frauds committed by employees that had built up over previous years.